Boxing legend Muhammad Ali dies at age 74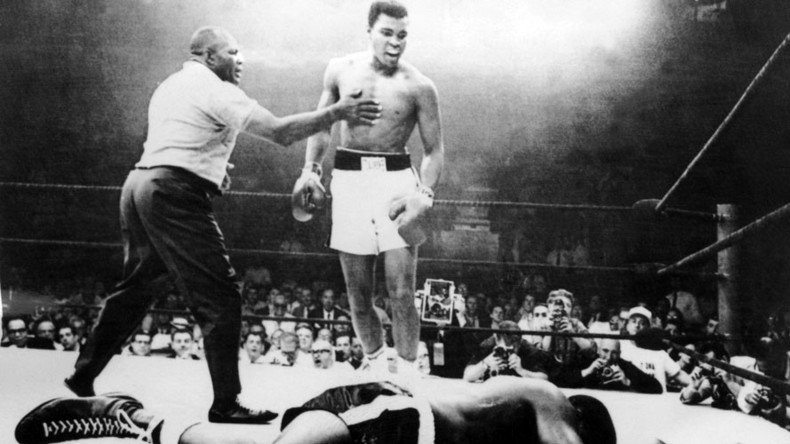 Boxing legend Muhammad Ali has passed away at the age of 74 following a 30-year battle with Parkinson's disease.
The former heavyweight champion was hospitalized for respiratory issues on Thursday, but family members close to the sports star told AP on Friday that his condition was more serious than previously thought.
READ MORE: Social media explodes with love for 'life-supported' Muhammad Ali
Ali is survived by his wife Lonnie Williams and nine children, two sons, and seven daughters, from three of his four marriages.
To honor Muhammad Ali's life & work, flags at all Metro Government facilities will be lowered to half-staff at 10am pic.twitter.com/Qm5xjkk6qr

— Mayor Greg Fischer (@louisvillemayor) June 4, 2016
The three-time world champion won his first heavyweight title in 1964 at the age of 22.
As one of the most famous boxing figures in the world, Ali's incredible 21-year fighting career earned him the nickname "The Greatest."
In 1984, at the age of 44, Ali was diagnosed with Parkinson's syndrome, a degenerative brain condition. His boxing career is believed to have played a significant role in bringing on the disease.
Alongside his successes in the ring, Ali became famous as a champion of the Black community, as well as for his motivational speeches and sharp wit. Some of his most well-known and quoted lines include "Float like a butterfly, sting like a bee," and "The man who views the world at 50 the same as he did at 20 has wasted 30 years of his life".
Born Cassius Clay Jr., Ali changed his name when he converted to Islam in 1975.
Ali's achievements in the ring made him an icon, but the fleet-footed boxer was known as much for his quick witted putdowns as the speed of his fists.
The boxer became notorious for his sharp one-liners, often predicting which round his opponent would fall in.
The Kentucky-born fighter also came up against one of the most powerful opponents of all in the late 1960s – "Big power America."
When US legislators desperate to cast a wider recruitment net for the Vietnam War relaxed draft eligibility standards, it pulled Ali (still known as Clay) towards the frontline of a conflict he didn't believe in.
Never one to waver in his beliefs, the then 25-year-old stood up and refused to be inducted into the army on religious grounds in 1967.
"My conscience won't let me shoot my brother, or some darker people, or some poor hungry people in the mud for big power America," Ali said at the time.
"And shoot them for what? They never called me n****r, they never lynched me, they didn't put no dogs on me, they didn't rob me of my nationality, rape and kill my mother and father... How can I shoot them poor people? Just take me to jail," Ali said in an interview broadcast on television.
Ali's anti-war stance made him a power symbol of dissent against the conflict at a time when many people still supported the US' involvement in Southeast Asia.
His decision also brought many detractors, however, and saw him stripped of his heavyweight title and slapped with a five-year prison sentence for evading military service.
He served no time due to the appeals process, and his conviction was overturned in 1971.
In what is still regarded as one of the most epic bouts in heavyweight boxing, Ali reclaimed his title from George Foreman in 1974 in the historic "Rumble in the Jungle" in Zaire.
He would reclaim the title once again against Leon Spinks in late 1978 after losing it to the Missouri brawler months earlier.
Muhammad Ali will be buried in his hometown of Louisville, Kentucky. The city plans to hold a memorial service on Friday at a sports arena in downtown Louisville.
You can share this story on social media: