Threat of 'taco truck on every corner' backfires as internet cheers
Published time: 2 Sep, 2016 23:55
Edited time: 4 Sep, 2016 13:34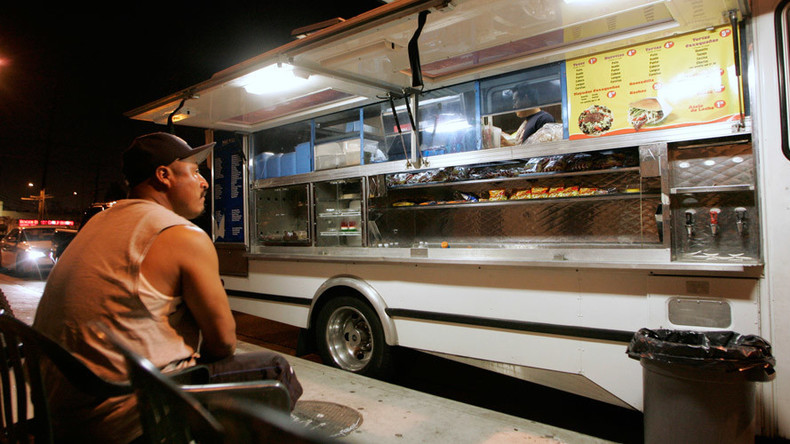 A Latino surrogate for Republican presidential nominee Donald Trump warned that, if his candidate loses, the US will end up with "taco trucks on every corner." Perhaps no one told him that Taco Tuesday is a thing… and Election Day is on a Tuesday…
When Marco Gutierrez, founder of the Latinos for Trump group and a Mexican-born immigrant to the US, appeared on MSNBC Thursday night, he issued what he thought was a dire warning for Americans: If Trump loses to Democratic rival Hillary Clinton, immigrants ‒ especially Latinos ‒ will take over.
"My culture is a very dominant culture, and it's imposing and it's causing problems," he told Joy Reid. "If you don't do something about it, you're going to have taco trucks on every corner."
Unfortunately for Gutierrez, however, that threat came off more like a promise, a la the Republicans' 1928 campaign ad that said under Herbert Hoover there would be "a chicken for every pot and a car for every garage."
Twitter users dished up some hot, fresh memes with a dash of spiciness and saltiness, using the hashtag #TacoTrucksOnEveryCorner.
Even RT America's Manila Chan got in on the tortilla-themed trending topic.
Of course, it's not the first time Trump has been tied to tacos in a rather ignominious way.
Gutierrez's comment came a day after Trump laid out his immigration policy at an evening rally in Phoenix, Arizona; the GOP candidate met with Mexican President Enrique Peña Nieto in Mexico City earlier on Wednesday.
Unlike many Trump speeches, his remarks on immigration contained actual policy proposals. On his first day in office, Trump said, he would push Congress to pass Kate's Law, which would impose mandatory minimum prison sentences on illegal immigrants with a prior criminal record in the US trying to re-enter the country. He also vowed to deport those who overstay their visas and others in the country illegally.
"We're also going to hire 5,000 more border patrol agents," and "put more of them on the border instead of behind desks, which is good," he added.
As a side dish to Trump's immigration proposals, some wondered whether taco trucks on every corner might actually be a good thing for the US economy.
"Logistically, this might be challenging," one person mused on Facebook. "And some clarification is in order here. Is he warning that each curb going into the corner would have a taco truck (e.g. 8 taco trucks at a four way intersection) or is the truck parked at the fulcrum of the corner (e.g. 4 taco trucks at a four way intervention)? Does this apply to only street corners, or it is any corner in a road?"
"I mean, look, this is the best idea to come out of the 2016 campaign, but if we're all getting a taco truck, I want to understand exactly how many and where."
Washington Post writer Philip Bump calculated that there are about 3.2 million intersections in the country ‒ apparently an extremely conservative estimate ‒ and decided that's how many taco trucks Gutierrez meant.
"For the purposes of our thought experiment, we will assume that Gutierrez didn't mean a truck literally on every corner — that would be ridiculous. Instead, let's assume that he meant a truck at every intersection," he wrote.
Bump then figured that each truck would have three employees, meaning there would be 9.6 million new jobs for the 14.8 million people who were unemployed in August. That doesn't include "ancillary job creation," he wrote, such as mechanics, gas station workers and the like.
"We'd likely need to increase immigration levels just to meet the demand," Bump concluded.
Maria LaMagna at MarketWatch decided to burst everyone's bubble, though.
Although the food-truck industry ‒ 24.6 percent of which is Latin American cuisine ‒ grew about 9 percent annually between 2010 and 2015, she wrote, the trend may be over as the market has become saturated. On top of that, you can't just buy a truck and start topping tortillas ‒ many cities have tight regulations on the industry.
Regardless of whether taco trucks will really appear on every corner if Clinton beats Trump, all Americans should celebrate the end of the election cycle with an epic Taco Tuesday on November 8.