15k new Hillary emails discovered as evidence of Clinton Foundation pay-to-play scheme grows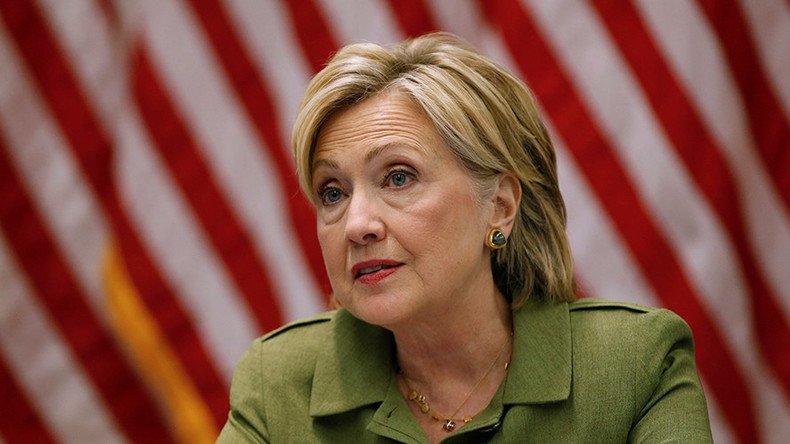 The FBI has found nearly 15,000 emails that former Secretary of State Hillary Clinton never turned over after she left office. Some show that foreign officials tried to curry favor with the State Department by donating millions to the Clinton Foundation.
The existence of the 14,900 messages was revealed during a court hearing on Monday. Judicial Watch, a conservative foundation that promotes integrity in government, has been seeking to release those emails, all of which were found on one computer disc that includes emails and attachments sent directly to or from Clinton or in which she was included at some point in the email chain. Monday's court hearing was to determine the schedule by which the new emails will be released.
FBI found almost 15,000 new Clinton documents. When will State release them? Court hearing today.

— Tom Fitton (@TomFitton) August 22, 2016
Also on Monday, Judicial Watch released 725 pages of State Department documents, including 20 email exchanges in which Clinton was a participant. More than a dozen of them added further evidence of a pay-to-play scheme in which foreign officials donated millions of dollars to the Clinton Foundation and its Clinton Global Initiative in exchange for access to the State Department.
In one of the message chains, the Clinton Foundation's Doug Band emailed Clinton's aide at the State Department, Huma Abedin, about a "good friend of ours," Crown Prince Salman of Bahrain. He was "asking to see her," Band wrote in June 2009.
The crown prince had already asked to see Clinton through "normal channels," Abedin replied. "I asked and she doesn't want to commit to anything."
Two days later, Abedin wrote Band that Clinton was able to meet with Crown Prince Salman, and that he should let the Bahraini royal know if he sees him. "We have reached out thru official channels," she added.
Salman is "essentially a foreign head of government" who "couldn't get a meeting through official channels" so "he had to go through the Clinton Foundation's Doug Band to get a meeting with Mrs. Clinton," Judicial Watch President Tom Fitton told C-SPAN during an interview Monday morning. Salman, through the Crown Prince's International Scholarship Program, donated more than $32 million to the Clinton Global Initiative between 2005 and 2010, while the Kingdom of Bahrain donated between $50,000 and $100,000 to the Clinton Foundation. Bahrain Petroleum gave an additional $25,000 to $50,000, Clinton Foundation documents show.
"I don't know if Band was acting as a foreign agent; maybe he should have been registered [as such], I don't know," Fitton said. "It raises the question whether public office was illegally used to benefit a private entity or private individual."
Clinton has consistently defended her use of a private email server to conduct official business, in part because previous secretaries of state did so. She reportedly told the FBI during a three and a half hour interview in early July that her predecessor at the State Department, Colin Powell, "counseled" her at a private dinner to use a private email account rather than a governmental one, according to FBI notes of that interview that were handed over to Congress last Tuesday.
Over the weekend, however, Powell denied that the conversation happened.
"The truth is she was using it (her personal email) for a year before I sent her a memo telling her what I did [during my term as secretary of state]," Powell told Page Six on Saturday. "Her people have been trying to pin it on me."
Powell used a personal AOL email account for unclassified messages when he served as secretary of state, and he did write Clinton "an email memo" outlining how that personal email "vastly improved communications within the State Department," a spokesman told NBC News.
"To be clear, Colin Powell shouldn't have been doing government business on his private email account, either. But that was a Yahoo-type account ‒ he didn't set up a server to do his private business or his government business. He didn't, for the most part, do classified, purposefully do classified business on that system," Fitton said of the difference between Powell's actions and Clinton's. "When Mrs. Clinton came into office, they did have a non-classified email system for her to use that she could have used, but she declined to use."
The Judicial Watch president also noted that two current members of the Obama cabinet, Defense Secretary Ash Carter and Homeland Security Secretary Jeh Johnson, have both sought to avoid Freedom of Information Act (FOIA) requirements, with Carter using a private email server, even after the Clinton scandal broke, and Johnson receiving waivers to access personal emails via government computers despite security concerns.
"You know, the government doesn't want you to know what they're doing, and that's true Republican or Democrat administration," Fitton said. "And the widespread use of email and other internet media like text messaging is a challenge because the government officials know there are ways of keeping things from us, so we just have to keep on tracking it."
The Department of State has known about the newly revealed emails at least since August 5, which is when the FBI finished turning over all its material related to its investigation into Clinton's use of a private email server while secretary of state, the Washington Post reported. The agency officially closed its case against Clinton on July 7.
The State Department has yet to sift through all the documents to determine if any will be held back or redacted due to either their personal nature or for security reasons. On top of that, some emails may be duplicates of previously released ones. The agency has promised to begin releasing the messages in weekly batches beginning on October 14. They will also provide a status update so that District Judge James E. Boasberg can determine which ones would need to be produced under Judicial Watch's FOIA request.
You can share this story on social media: