After FBI grilling, Hillary Clinton calls husband's chat with Attorney General 'chance meeting'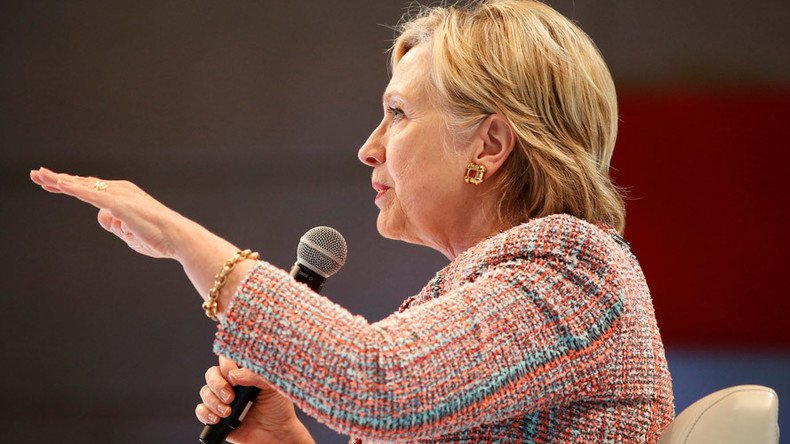 Democratic presidential candidate Hillary Clinton said her husband Bill's meeting with US Attorney General Loretta Lynch at Phoenix, Arizona's Sky Harbor Airport was not related to the Federal Bureau of Investigation's email probe and was nothing more than a "chance meeting at an airport tarmac."
READ MORE: Hillary Clinton interviewed by FBI over classified email scandal
Clinton made the comments during her first media interview since being interrogated by the FBI for more than three hours on Saturday.
The former secretary of state spoke with NBC's Chuck Todd on Meet the Press over the phone, telling him firstly she had been "eager" for the FBI interrogation and was "pleased to have the opportunity to assist the department in bringing its review to a conclusion."
The FBI grilling came more than a year after Clinton admitted using a private email server for official emails, hundreds of which were classified, during her time as America's top diplomat.
Clinton refused to comment, however, on news reports that a decision not to file charges against her would be announced in the coming weeks: "I am not going to comment… I have no knowledge of any timeline – this is entirely up to the department."
Lynch, who was nominated to her current position by President Barack Obama in 2014, declared earlier this week she would accept recommendations from career prosecutors and the bureau she oversees in response to backlash for her 'Sky Harbor summit' with the former president on Monday.
READ MORE: 'I don't know': US AG Lynch claims ignorance on Clinton email probe timeline
Lynch said the meeting was purely "social" with grandchildren as the main topic. The two go way back after 'Grandpa Bill' appointed her as a US attorney in 1999 during his presidency.
Hillary Clinton echoed Lynch's words during her Meet the Press interview, telling Todd she first heard about the incident from the news and described it as "a short, chance meeting at an airport tarmac."
She laughed off the idea that her husband and the Attorney General discussed the Department of Justice's review of her email probe.
"Both of their planes, as I understand it, were landing on the same tarmac at about the same time, and the Attorney General's husband was there, they said hello, they talked about grandkids, which is very much on our minds these days, golf, their mutual friend, former Attorney General Janet Reno, it was purely social," the former New York Senator said.
When asked if she thought her husband should have known better, she replied, "Well, I think hindsight's 20/20. Both the attorney general and my husband have said that they wouldn't do it again even though it was, from all accounts that I have heard and seen, an exchange of pleasantries. But obviously, no one wants to see any untoward conclusions drawn, and they said they would not do it again."
An all-white, all-female panel of political commentators speaking with Todd after he aired his Clinton interview slammed the Phoenix meeting.
Green Party presidential candidate Jill Stein appeared on CNN's Sunday talk show "Reliable Sources," but was not asked about the email probe, instead talking about her Green New Deal, which would "create millions of jobs by transitioning to 100% clean renewable energy by 2030."
Libertarian candidate Gary Johnson weighed in on the controversy over Trump's controversial tweet about Clinton.
READ MORE: Trump tweets 'Clinton corrupted' with six-pointed star, drawing accusations of anti-Semitism
The former New Mexico governor told CNN's program "State of the Union" that Trump "has said 100 things that would disqualify anyone else from running for president but it doesn't seem to affect him. The stuff he's saying is just incendiary. It's racist."
You can share this story on social media: