'I don't know': US AG Lynch claims ignorance on Clinton email probe timeline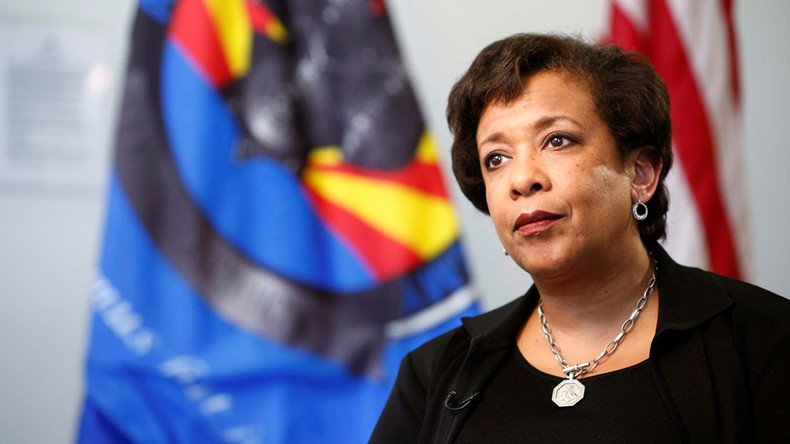 US Attorney General Loretta Lynch has stepped away from deciding whether Democratic presidential candidate Hillary Clinton will be charged in the classified email investigation, following outrage over the AG's private Monday meeting with Bill Clinton.
Lynch commented on the move during her conversation at the Aspen Ideas Festival, which was scheduled for weeks before Friday morning's revelation.
She clarified to pro-Clinton Washington Post columnist Jonathan Capehart, who moderated the one-on-one, that she isn't technically recusing herself because she will be briefed about the decision.
Lynch told Capehart, the Aspen audience, and those watching the live stream that the recommendations will be presented to her, and that she fully expects, "I will be accepting their recommendations and their plans for going forward."
But when asked about how soon charges might be handed down in the case, she claimed, "I actually don't know."
"This case will be resolved by the team that has been working on it from the beginning," Lynch added. "Supervisors always review matters, in this case the review will be career people in the DOJ, and also the FBI will review it, up to and including the FBI director, and that will be the finalization of not just the factual findings, but the next steps in this matter."
The news comes in the wake of accusations that the Barack Obama appointee has a conflict of interest in the case, after she met with former president Clinton on her government plane while on the tarmac of Phoenix, Arizona's Sky Harbor Airport on Monday.
"He said hello and we basically said hello, and I congratulated him on his grandchildren as people tend to do," Lynch said Friday morning. "It really was a social meeting, and it really was in that regard."
She also claimed she had already decided to follow this hands-off process before meeting with the Arkansas native.
Normally, the AG and other DOJ officials would have the final say in bringing charges in an investigation.
Although Lynch previously stressed the two did not discuss official business, she was accused of impropriety and was urged to recuse herself.
READ MORE: Bill Clinton's secret meeting with Loretta Lynch sparks suspicions over Hillary email scandal
"When I first heard that... I actually thought they were joking," Republican presidential candidate Donald Trump said Thursday on the Fox News Channel program Hannity. "I'm just flabbergasted by it. I think it's amazing. I've never seen anything like that before."
Clinton's primary opponent Bernie Sanders said on CBS News in May that voters should take a "hard look" at a State Department audit on the matter, but has not commented on what Lynch's role should be in the investigation since her Sky Harbor summit.
However, the scandal did not sway enough Democratic primary voters away from the former secretary of state, who is leading in the delegate count going into this month's convention.
Green Party presidential candidate Jill Stein told the Observer two weeks ago, "This is sort of typical Hillary Clinton; to do things that are not legal, to say that they are, and then try to cover them up. Hillary Clinton severely chastised other whistleblowers for using Internet channels that were not secure and yet she herself was doing that with private, high level state department information."
When asked why she keeps making the distinction that the case will be handled by "career" prosecutors, Lynch said questions about her role in the investigation have been focused on concerns over "whether a political appointee would be involved in deciding how to investigate a matter, or what something meant, or how the case would proceed going forward. As I have always said, this case would be handled by career prosecutors, who are independent."
Lynch's decision is a departure from previous investigations. When President Obama's former CIA director David Petraeus was investigated for leaking classified documents to his biographer and girlfriend, the FBI recommended felony charges, but Lynch's predecessor, Obama appointee Eric Holder, changed it to a misdemeanor.
The investigation has been examining Clinton's use of a private email server in her home while she was the country's top diplomat to determine whether she or anyone on her team broke the law by setting it up or sending classified information through it.

While it has already been established that some sensitive info was sent on the server, the question lies how Clinton handled the data and if it amounts to criminal mishandling of classified information.
Lynch's decision to accept the recommendation of the prosecutors is standard procedure for an attorney general, but it eliminates the possibility that Lynch would overrule investigators, something that has been suggested.
Earlier this week, Capehart wrote a column titled "Bernie Sanders has a lot of nerve," in which he called on the Vermont Senator to drop out of the presidential race.
An indictment against Clinton before the Democratic Convention later this month could pave the way for Sanders to become the nominee, although this possibility was not addressed during Friday's conversation.
You can share this story on social media: