Sent from my iPhone: Pentagon chief used private mail for work-related communication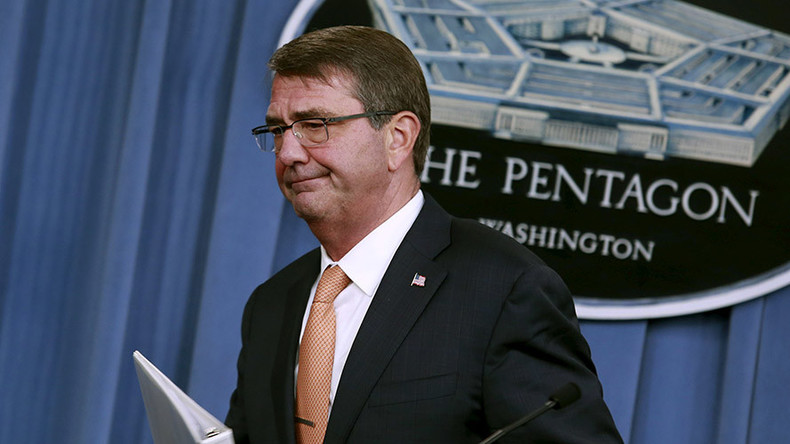 US Defense Secretary Ash Carter used a personal email account on his iPhone to send "administrative messages," the official acknowledged on Thursday. The head of the Pentagon said the practice was "a mistake."
"I have to hold myself to absolutely strict standards in terms of cybersecurity and doing things that are appropriate. I didn't in this case," Carter said in an interview with CBS. The defense secretary, who is now on a work trip in the Middle East, added that it was "a mistake, and it's entirely my own."
No classified information was among "administrative messages" sent from his iPhone, Carter said, and all emails were reportedly backed up for record on his department's official email system.
The disclosure of private email use for government business by the defense chief was acknowledged by the Pentagon on Wednesday, following an article by The New York Times. The report said Carter's mailing practices, which violated Defense Department rules, continued for at least two months after Hillary Clinton's similar private email usage was disclosed in March.
The front-runner for the Democratic presidential nomination and a former secretary of state, Clinton was widely criticized for mixing work and private business while emailing. The revelations led to an FBI investigation into two emails that are now considered top secret, AP reported.
READ MORE: Hillary Clinton apologizes for using private email server


Ash Carter has discontinued the practice, Pentagon Press Secretary Peter Cook said in a statement, without specifying how long it had continued. The defense secretary "strongly prefers" to communicate in person or on the phone, Cook said, adding that "after reviewing his email practices earlier this year, the secretary... further limited his use of email altogether."
READ MORE: CIA chief's e-mail hacked, hackers with pro-Palestinian agenda claim responsibility
The way the Pentagon chief handled his official communications should be further reviewed, Senator John McCain, who chairs the Senate Armed Services Committee, said in a statement. The committee has requested copies of the emails and will conduct a review "to ensure sensitive information was not compromised," McCain said, adding that it was "hard to believe that Secretary Carter would exercise the same error in judgment" following the Clinton email scandal.