Hillary Clinton claims predecessor Colin Powell advised personal email usage – report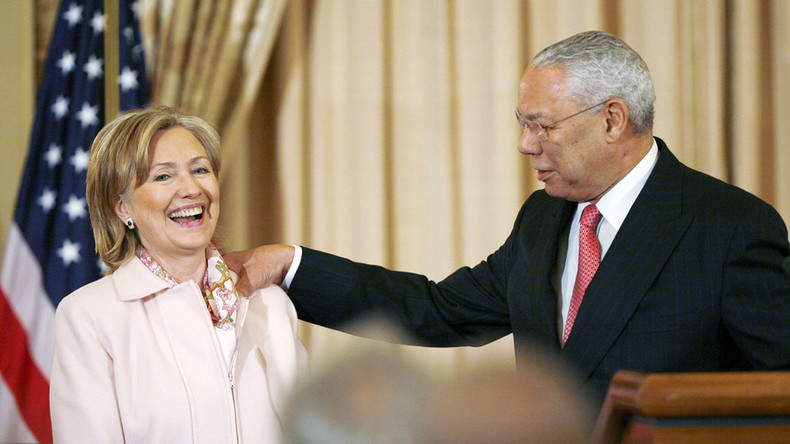 Former US Secretary of State Colin Powell was the one who had "counseled" Hillary Clinton, advising her to use a private email account rather than a governmental one during her days in the office, according to a new report.
The New York Times revealed the news, citing two sources in apparent reference to Powell as Clinton's adviser on how to better deal with her work emails at the State Department.
The first source is Hillary Clinton herself: NYT referred her account to the Federal Bureau of Investigation (FBI), the notes of which were handed over to Congress earlier in the week. Following the interview with investigators, FBI director James Comey decided not to pursue criminal charges against the Democratic presidential hopeful.
Powell's alleged advice on private emails is also mentioned in an upcoming book on Bill Clinton's postpresidency, "Man of the World: The Further Endeavors of Bill Clinton" by journalist Joe Conason, the report says.
The soon-to-be-released publication describes a conversation between several former secretaries of state and Hillary Clinton in her early months of tenure at a small dinner party. Its host, Madeleine Albright, apparently asked her guests, who included Henry Kissinger, Condoleezza Rice and Colin Powell "to offer one salient bit of counsel to the nation's next top diplomat."
"Powell told her to use her own email, as he had done, except for classified communications... Saying that his use of personal email had been transformative for the department," the New York Times cited Conason as writing in the book. The recommendation apparently only "confirmed" Clinton's decision to use her personal account "for most messages," which she "had made months earlier."

Powell's office said he had no recollection of the dinner conversation.
The former secretary of state, who was in charge of the office between 2001 and 2005, at a far earlier stage of online communications development, had only recalled an email memo to Clinton, in which he described his use of the personal account for unclassified messages, the statement by Powell's office said, adding that it might still exist in the FBI files.
READ MORE: 'Am I not speaking English?' Reporters grill State Dept over Clinton emails
Earlier in the year, a report by a State Department inspector general said although Powell and other senior officials had used private accounts for official emails, its rules later made it clear the practice was unacceptable because of "significant security risks."
You can share this story on social media: