Washington to fight cyber-attacks with sanctions
Published time: 26 Jul, 2016 19:03
Edited time: 30 May, 2018 10:45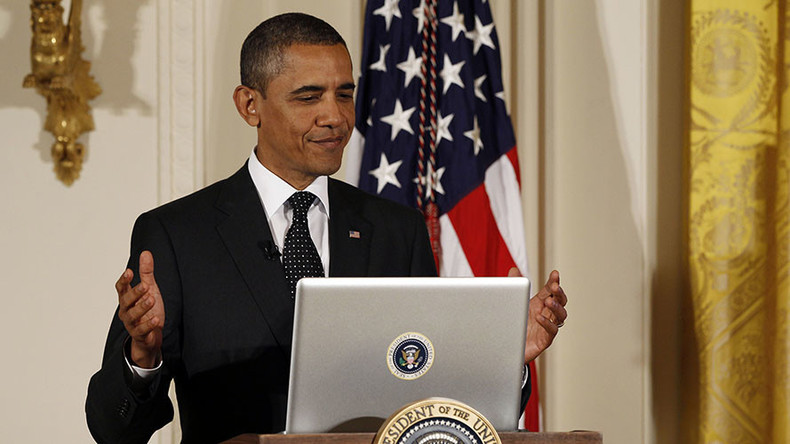 The White House has issued a directive saying that the US is "in the midst of a revolution of the cyber threat," establishing new guidelines in case of "significant cyber incidents" and stressing that "no tool is off the table."
The new instruction authorized by US President Barack Obama tasks several federal agencies with dealing with both cyber incidents and their aftermath. The Federal Bureau of Investigation (FBI) "will take the lead in coordinating the response to the immediate threat," White House counterterrorism adviser Lisa Monaco said on Tuesday, while announcing the new measures at the International Conference on Cyber Security in New York.
Comparing cyber-attacks to "terrorism cases," the US official stated "This includes bringing the full range of law enforcement and national security investigative tools to bear," while stressing that "No tool is off the table."
The Department of Homeland Security (DHS) has been tasked to help businesses recover from cyber incidents by providing technical assistance and supplying "additional federal resources to aid recovery."
READ MORE: 'Guccifer 2.0' releases hacked DNC docs revealing mega donors, Clinton collusion
The directive, which also classifies the severity of cyber-attacks on a five-point scale, uses "the same analysis that guides our military, intelligence, law enforcement, or operations elsewhere – in air, land, sea, or space," Monaco claimed, saying that over the past years "the rate of cyber intrusions and attacks has accelerated dramatically."
While officials said they will "continue to use law enforcement tools," the White House announced that the "power of sanction" will also be applied against international cyber abusers, citing its previous measures against North Korea, which it blamed for a massive attack on Sony Pictures. Pyongyang denied any involvement.
"Our tools now include an executive order authorizing sanctions against those that engage in significant malicious cyber activities, such as harming our nation's critical infrastructure – our transportation systems or power grid," the official announced.
READ MORE: US officials covered up China hack of FDIC computers – House report
"Nations like Russia and China are growing more assertive and sophisticated in their cyber operations," the US counterterrorism adviser claimed, before mentioning cyber threats from "non-state actors," including Islamic State (IS, formerly ISIS/ISIL).
"To put it bluntly, we are in the midst of a revolution of the cyber threat – one that is growing more persistent, more diverse, more frequent and more dangerous every day," Monaco said, adding that "cyber operations on the battlefield" will be conducted to fight IS.
READ MORE: Pentagon frustrated at slow pace of digital war against Islamic State
Among the recent cyber-attacks to plague the US was the hacking of the Democratic National Committee (DNC) database, when research on Republican Party and donor information was stolen from party servers and later disclosed. A cybersecurity firm hired by the DNC to investigate the data breach initially reported the hack to be the work of Russian government agencies, but a lone hacker by the name "Guccifer 2.0" then claimed responsibility.