Ex-KKK Grand Wizard David Duke wants to be Louisiana's next senator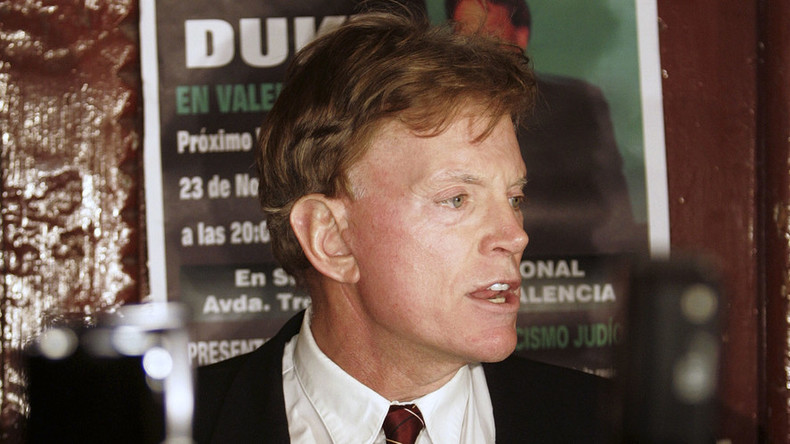 Former Grand Wizard of the Ku Klux Klan David Duke has announced he is running for the US Senate in Louisiana. Duke, a supporter of GOP presidential nominee Donald Trump, is a registered Republican running for an open seat.
"I'm proud to announce my candidacy for the United States Senate," Duke said in a video. "I believe in equal rights for all and respect for all Americans. However, what makes me different is I also demand respect for the rights and heritage of European Americans."
The Friday announcement came the morning after Trump accepted the Republican nomination for president at the party's convention in Cleveland, Ohio. The billionaire businessman came under fire during the primary campaign for not immediately disavowing Duke's endorsement.
In his video announcement, Duke praised Trump for adopting policies he's long advocated for, including the use of "America first," a phrase the presidential nominee used in his acceptance speech Thursday night.
"I'm overjoyed to see Donald Trump and most Americans embrace most of the issues that I've championed for years," Duke said. "I was the first major candidate in modern times to promote the policy of 'America first'."
He also weighed in on the Melania Trump plagiarism controversy, blaming the cribbed phrases on a "Jewish neocon speechwriter" at "a vicious corrupt lying Zio Media," he wrote on his website. Meredith McIver has said she wrote the infamous remarks.
Duke is one of 22 Republicans running for the seat that will be vacated by Senator David Vitter (R-Louisiana) at the end of his term. The National Republican Senatorial Committee refused to lend its support to the former KKK leader, NRSC Executive Director Ward Baker tweeted.
Earlier in July, Duke mulled running for Congress against Representative Steve Scalise (R-Louisiana), the third-highest ranking GOP member of the House. The two men were tied together in a scandal that broke in December 2014 over Scalise's May 2002 appearance before a convention of the European-American Unity and Rights Organization. The group was founded by Duke, and deemed a white supremacist organization by the Southern Poverty Law Center.
Duke is a former state representative who represented an area in the suburbs of New Orleans for most of one term, from 1989 to 1992. He was succeeded in office by Vitter. He has unsuccessfully run for several higher offices, including the US House of Representatives, the US Senate, the Louisiana governor's mansion and the White House. He formed a Louisiana chapter of the KKK in 1974, but left in 1980 because he disliked the group's association with violence and because he couldn't stop members from other KKK chapters from doing "stupid or violent things," he told the Daily Telegraph in 2009.
The 66-year-old Louisianian said he'd been "urged by enormous numbers of people his district to run for United States Congress."
"With the country coming apart at the seams and no one willing to really speak the truth about what is happening, the majority population in this country needs someone who will actually give voice to their interests in the face of an increasingly violent hatefest launched by the media and political establishment against them," his website says.
Duke spent a year in prison after pleading guilty in 2002 to filing a false tax return and misusing donations from supporters. His announcement comes at a time of deep racial unrest in Louisiana, after the officer-involved shooting death of Alton Sterling and an ambush on law enforcement that killed three police officers.