Former KKK Grand Wizard considers presidency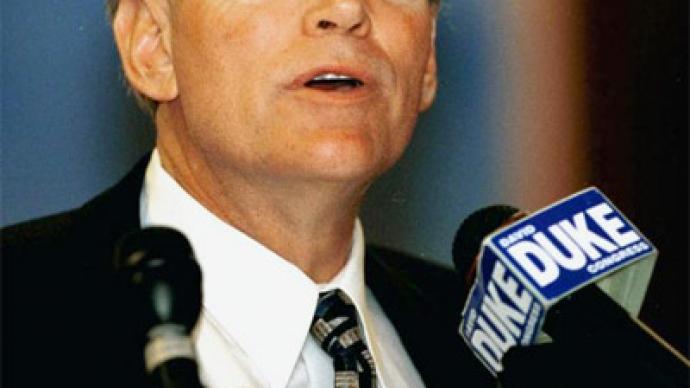 Voters peeved by the serious lack of holocaust deniers on the ballot lately just might be in luck. Former Ku Klux Klan Grand Wizard, self-proclaimed "white nationalist" and devout anti-Semite David Duke is considering a bid at the presidency. Again.
Duke attempted a run as a Democrat in 1988 and again under the Republican ticket in '92. Now Duke, a former Louisiana congressman, is considering vying for the GOP's nomination for next year's presidential race. Duke will hit-up two dozen states in the coming months to see if he can garner enough support to make a run for the White House in next year's election.It might work out better for him than critics might think, though. The last time Duke ran a serious campaign, he received almost 40 percent of the vote for governor of Louisiana. If nearly half of the Bayou State considered electing a former KKK leader, a run next year might be more than just a farce.On his website, Duke calls current US President Baracak Obama a "Judas Goat," backed by extremist Jews (whom the Grand Wizard isn't very fond of) and "a servile puppet in the hands of his Zionist masters." His site also currently hosts a doctored pic of the president on its homepage with the file name "Obama the Pimp"; it shows the commander in chief with a pencil thin moustache and an animal-print fedora with a feather on top."If the Democrats can elect Barack Obama to the President of the United States, the Republicans now have the man who, without doubt, offers the clearest answer to Obama," reads a post on his site about the possible run.The message board launched in the 90s during Duke's campaign for senator is currently run by Don Black, a former member of the National Socialist White People's Party, who also maintains MartinLutherKing.org, a site that calls the civil rights leader an abuser of women and hosts a selection of vulgar rap lyrics. On his site, Duke says that he has the backing of thousands of Tea Party activists urging him to run.In a video that Duke uploaded to YouTube in 2010, he says that his past is one of the reasons why people should support him. "I'm a man who says what he believes [and is] willing to be unpopular," he says. His bio on DavidDuke.com claims that his latest book, Jewish Supermacism, is a bestseller in many countries, and, "If you read his writings with an open mind, you will discover a man of both intellect and courage."Those are the traits that Duke applied during the '90s to dupe thousands of his followers into donating funds which he later spent on gambling. He was sentenced to 15 months in prison for the felony charge of filing a false tax return and mail fraud.
You can share this story on social media: