Trump protests turn violent in Denver, 3 arrested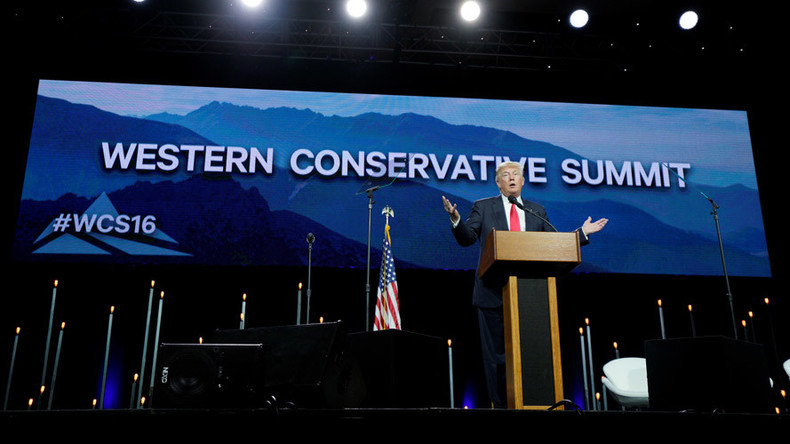 In what has become a typical Trump rally brouhaha, a protest against the presumptive Republican presidential nominee in Denver, Colorado grew violent, with pushing and shoving. At least three people were arrested.
As Donald Trump spoke at the Western Conservative Summit on Friday morning, hundreds demonstrators gathered outside the Colorado Convention Center and in Civic Center Park. About half an hour after the GOP candidate was scheduled to begin his remarks, pushing and shoving broke out between protesters.
Denver Police, expecting a large number of protesters and hoping to prevent violence, had a strong presence outside the convention center, KUSA reported.
"We have certainly taken into account that there have been issues at similar events in other cities, and we have incorporated that into our safety plan," Denver Police Department spokesperson Doug Schepman told reporters on Thursday.
Three people were taken into custody during the protest, authorities said.
The Western Conservative Summit, an annual event hosted by the Centennial Institute, is a three day conference that bills itself as "the largest gathering of conservatives outside of Washington, DC."
A man in a EZLN t-shirt emblazoned with the logo of the communist Mexican rebels, hung Trump in effigy.
Black Bloc protesters and members of Occupy Denver were also present.
In Civic Center Park, groups built a 9-foot high, 30-foot long wall out of 3-foot by 3-foot boxes to protest Trump's visit. The structure is meant as a visible demonstration against the candidate's proposal to build a wall along the US-Mexican border, organizers told KDVR. After the wall is constructed, artists will paint the boxes, which will then be filled with donated goods and given to charities that help immigrants.
"Instead of building walls of separation and hatred and supremacy, we are actually showing that we as a community can come together and build something good for the community," Ian Silverii, executive director of ProgressNow Colorado, told the Colorado Springs Gazette.
"We're showing the world that Colorado doesn't break out into the violence and chaos that seems to happen whenever Trump shows up. We're bringing people together to do something good instead."
So much for that idea...