FBI releases unredacted transcript of Orlando shooter's 911 calls after public pressure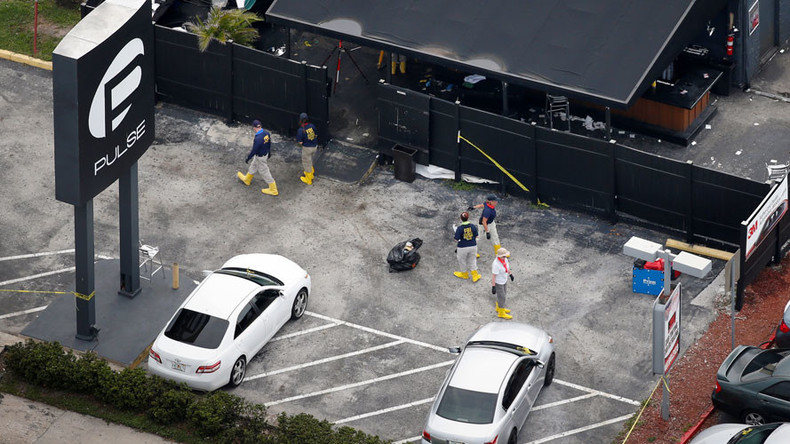 The DoJ has released details of Orlando shooter Omar Mateen's conversations with 911 operators and negotiators. The transcripts were originally redacted to omit his references to Islamic State and only a short portion of the contents have been released.
Mateen killed 49 and wounded 53 people at Pulse, a gay night club, on June 12. He made two 911 calls during the attack, and received one call back.
According to the first FBI's release, Mateen began his first 911 call with an Arabic greeting, before saying he was the shooter and pledging allegiance to [omitted].
The release goes on to detail a summary of the three crisis calls made. Mateen told the negotiator to stop bombing Syria and Iraq and said "There is some vehicle outside that has some bombs, just to let you know. You people are going to die and I'm gonna ignite it if they try to do anything stupid."
The negotiations covered 28 minutes of calls, Orlando Police Chief John Mina said. It's important to keep the person talking in hostage situation, he added.
READ MORE: Mass shooting at Orlando gay nightclub

After receiving much ridicule on social media for the decision to redact the transcripts, the Justice Department relented Monday afternoon and released the unredacted version.
The updated release contains Mateen's allegiance to Islamic State (IS, formerly ISIS/ISIL) and leader Abu Bakr al-Baghdadi. However, it fails to reveal any new information that had not previously been covered in the media.
"The purpose of releasing the partial transcript of the shooter's interaction with 911 operators was to provide transparency, while remaining sensitive to the interests of the surviving victims, their families, and the integrity of the ongoing investigation," the DoJ said in a statement. "We also did not want to provide the killer or terrorist organizations with a publicity platform for hateful propaganda."
"Unfortunately, the unreleased portions of the transcript that named the terrorist organizations and leaders have caused an unnecessary distraction from the hard work that the FBI and our law enforcement partners have been doing to investigate this heinous crime," the statement continued.
The decision to release contents of the 911 calls comes after a number of media organizations pushed for the release.
The calls from both Mateen and people inside of Pulse nightclub "were very vital," Mina said. "That's how we got information about explosives."
Police also answered questions about the delay between their arrival and entering the nightclub.
"Our SWAT team responded and set up for all situations," Mina said. He refused to go into all of the team's tactics, but noted that for an explosive entry, "those things take time."
Mina also addressed the question of whether any victims were shot by officers.
"Those killings are on the suspect and on the suspect alone, in my mind," he said.
Speaking to NBC's Chuck Todd on Sunday, Attorney General Loretta Lynch said, "What we're not going to do is further proclaim this man's pledges of allegiance to terrorist groups, and further his propaganda. We are not going to hear him make his assertions of allegiance [to Islamic State]."
Lynch said the release will "begin to capture the back and forth between him and the negotiators, we're trying to get as much information about this investigation out as possible."
READ MORE: Orlando killer searched for Facebook updates during rampage, ranted about 'filthy ways of the West'

While President Barack Obama has maintained that the shooter was "self-radicalized" and an example of "homegrown extremism" and others have pointed to Mateen's struggles with his sexuality as a likely motive for the massacre, Donald Trump and elements of the right have insisted that Mateen's shooting was part of an IS terror plot, and a clear cut case of "radical Islamic terrorism," despite a lack of evidence linking Mateen to IS.
The partial release backs up the narrative pushed by the FBI, which has received criticism for failing to prevent Mateen from committing the massacre. Mateen was under investigation by the FBI on two separate occasions before he carried out the attack.
New evidence has come to light which reveals the FBI attempted to entrap Mateen with an informant during the course of its investigation. This is a common tactic employed by the FBI to capture terrorists. It has been criticized for creating terrorists rather than preventing terrorism.
READ MORE: 'Majority of terrorist attacks in US initiated by FBI, not terrorists'

In Mateen's case an informant was placed at a St Lucie County Courthouse where he worked for security firm G4S, after complaints were made about comments he had made there. The FBI launched an investigation into Mateen. The informant failed to "lure Omar into some kind of act," Sheriff Ken Mascara said Wednesday. Speaking at a press conference, FBI Director James Comey described the investigation into Mateen as involving "introducing confidential sources to him."
READ MORE: FBI calls Orlando massacre both hate crime & terrorism
The conversations between Mateen and the FBI informants could reveal more about his motives than the 911 calls. It is unknown whether conversations with alleged extremists could have radicalized Mateen, or whether the informants knew of Mateen's issues with his sexuality.
"We're looking into any potential motive, we're not just looking at one motive," Ron Hopper, assistant special agent in charge of the FBI's Tampa field office, told reporters. The FBI is asking for anybody and everybody who had contact with Mateen to come forward.
You can share this story on social media: