FBI calls Orlando massacre both hate crime & terrorism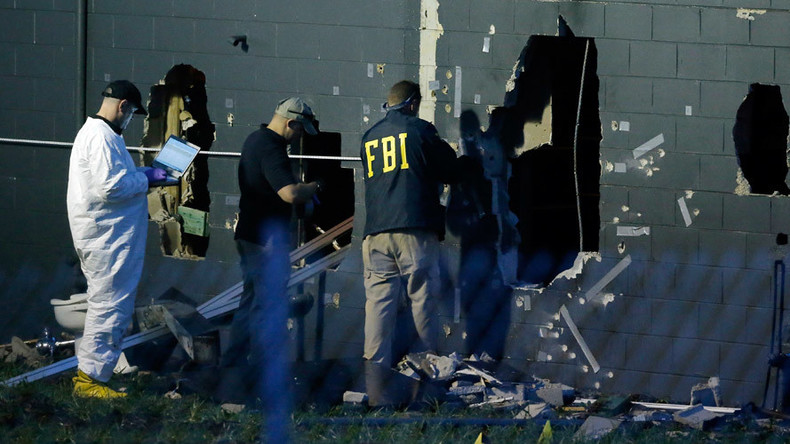 The FBI agent overseeing the investigation into the mass shooting at a gay nightclub in Orlando, Florida has called the massacre both a hate crime and an act of terrorism.
"This was an act of violence, borne out of hate, that inflicted terror on an entire community. So I would call it a hate crime, I would call it terrorism, it's both," Ron Hopper, assistant special agent in charge of the FBI's Tampa field office, told reporters Wednesday afternoon.
READ MORE: Mass shooting at Orlando gay nightclub (Live Updates)
He and other Justice Department officials warned Americans not to make threats against the Muslim community in the wake of Sunday morning's attack, in which shooter Omar Mateen killed 49 people and injured 53 more before being killed in a shootout with police. In a 911 phone call before the shooting, the 29-year-old declared he was allied with Islamic State and expressed solidarity with the Muslim brothers who carried out the Boston Marathon bombing in 2013.
There have been media reports about alleged threats or attacks on members of religious or ethnic communities that could be perceived to be in response to the shooting at the Pulse, Hopper said.
"Let me be beyond clear on that point: Civil rights violations are a priority for the FBI, and we will investigate reported incidents against individuals based upon any class, any protected class to include race, religion and sexual orientation," he said. "Any known threats or known incidents should be reported to your local FBI office or local law enforcement agencies."
Making threats against the Muslim community "is not only wrong, in most cases, making these threats is illegal," US Attorney Lee Bentley stressed during the press conference. "Stop it!"
"Any threats like this detract from what we're doing in law enforcement. We want to spend 100 percent of our time investigating the crime that occurred in the Pulse nightclub and the facts leading up to it," Bentley continued. "Don't distract us from what we need to be doing."
"And I say to anyone out there who's made any such threat or who's considering making such a threat: Grieve with us. Grieve for the victims of the nightclub shooting with the same solemnity that we are doing and with which it deserves," he added.
The Muslim community is not the only one under attack in the wake of the shooting. Police officers who were at Pulse on Sunday have also been mistreated in the days since.
Those officers have been relieved from duty and are prohibited ‒ both by departmental policies and Florida law ‒ from talking to the media about their experiences or the investigation, Orlando Police Chief John Mina said. He noted, however, that there have been instances of "aggressive media outlets that have gone to our officers' homes, have called parents out of state, have posted pictures."
"We're stressing to let these officers deal with this situation that they had to deal with that night, let them be with their families, and let them heal without bothering," Mina added.
The FBI has put out intelligence bulletins and made contact with nightclubs in Orlando, especially those serving the LGBTQ community, asking them to have a heightened sense of awareness, Hopper said. He added that, between Ramadan and the upcoming July 4th holiday, the overall community should have a heightened awareness of their surroundings, but that "there is no credible or specific threat that indicates that there are anything planned for the Orlando area or nationally."