Sanders stays in the fight, taking issues to convention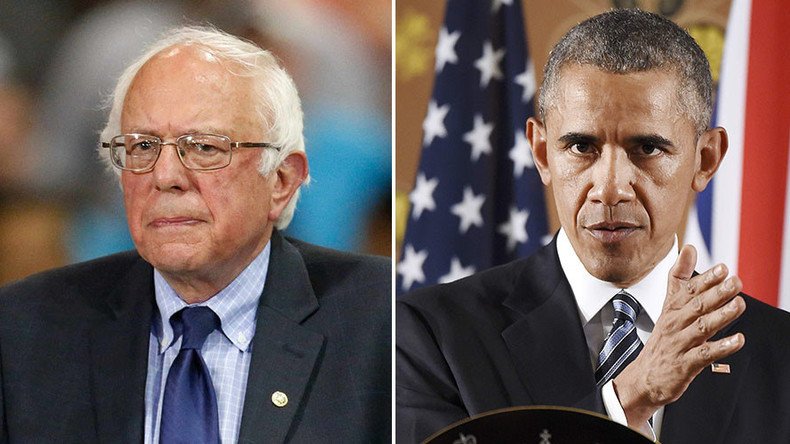 After a meeting with President Barack Obama, Bernie Sanders promised to "work together" with Hillary Clinton to defeat GOP candidate Donald Trump, but stopped short of conceding defeat in the Democratic primaries. Obama then officially endorsed Clinton.
Sanders said that he will still compete in the Washington, DC primary next Tuesday and that his campaign would take the social issues important to them to the Democratic national convention in Philadelphia next month.
The Vermont senator said he was willing to "work together" with Clinton against Trump, whose presidency would be a "disaster," he said.
Obama and Sanders met at the White House around 11:30 am local time on Thursday. While the chief executive has not officially endorsed Clinton's presidential bid just yet, the expectations from the meeting were that Obama would "nudge" the socialist senator into delivering his considerable following to the Democratic establishment.
Following the announcement that Obama endorsed Clinton, Sanders was asked for comment while in a meeting with Senate Minority Leader Harry Reid (D-Nevada). He remained silent.
Clinton has been declared the presumptive Democratic nominee even before she won three of Tuesday's six primaries, finishing the race with 2,184 pledged delegates, 380 ahead of Sanders.
"At this point, the president believes that Senator Sanders has more than earned the right to make his own decision about the course of his campaign," White House spokesman Josh Earnest told reporters Wednesday.
Obama will "delicately nudge the losing Democratic presidential hopeful toward a full embrace of Hillary Clinton's candidacy and a unified party effort to defeat Donald J. Trump in the fall," wrote The New York Times, citing "administration aides."
The Times described the Thursday meeting as"part of a choreographed series of moves Mr. Obama set in motion this week that are designed to quickly bridge the divide"between Sanders and Clinton.
READ MORE: 'Thank you Bernie': Gratitude and grief as Sanders vows to keep fighting
"You've built this enormous grass-roots movement; what do you want to do with that?" the Times quoted Jen Psaki, Obama's communications director, describing the likely course of the conversation with Sanders. "There's a recognition of the energy and enthusiasm that he built, and that that is going to be needed to win in November."
Obama will try to persuade Sanders into turning over the "enormous list" of Democratic voters that could be useful to Clinton and the party's Senate and House candidates in November, telling the independent senator from Vermont that he could receive a lot of the credit for a Democratic victory if he directs his "newfound political energy" to Clinton.
Though Washington insiders regard Obama as the perfect man for the job of persuading Sanders to fall in line, some of the campaign aides for both Sanders and Clinton are not so convinced.
"The president is not Sen. Sanders' boss. We've got to get this straight here," Nina Turner, a former Ohio state senator and a Sanders surrogate, told Politico. "There's respect that's for the commander in chief … but Sen. Sanders is duly elected, and he'll make his own decisions."
Ed Rendell, former Pennsylvania governor and Clinton supporter, is likewise skeptical that Obama can accomplish much.
Sanders "marches to his own drum," Rendell told Politico. "The president deserves an A for effort, but I'm not sure he's going to have much of an impact."
You can share this story on social media: