Hillary Clinton secures delegates to become presumptive Democratic nominee - AP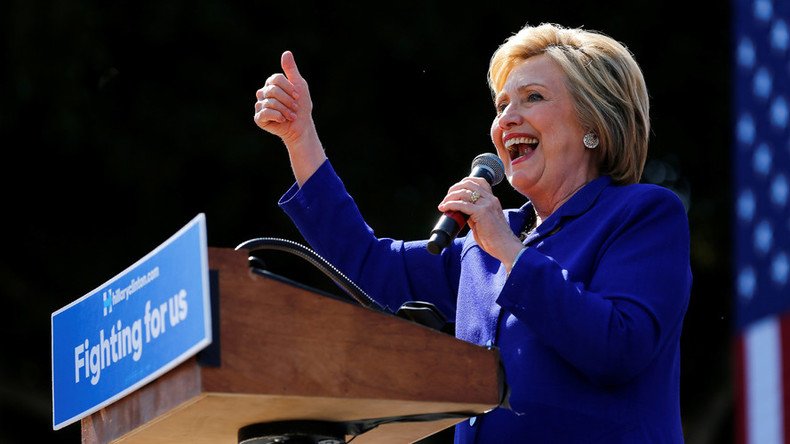 Former Secretary of State Hillary Clinton has reached the magic number – 2,383 – of delegates required to win the Democratic presidential nomination, according to the Associated Press, which included superdelegates in its count.
Clinton is poised to accept the Democratic nomination at the party's national convention in Philadelphia in July, AP reported.
"I'm very proud of the campaign we're running here," Clinton said Monday on CNN's State of the Union talk show, "and I believe, on Tuesday, I will have decisively won the popular vote and I will have decisively won the pledged delegate majority."
Her primary opponent, Senator Bernie Sanders (I-Vermont) has won 1,521 pledged delegates and a handful of superdelegates, bringing his grand total to 1,567, according to AP.
Michael Briggs, spokesman for the Sanders campaign, insisted Monday that the self-described democratic socialist is "by far the strongest candidate against Donald Trump" and called any count of superdelegate votes before the national convention a "rush to judgment," AP reported.
The AP count followed a primary in Puerto Rico, where Clinton handily won, prompting a surge in support from superdelegates, party officials whose votes at the Democratic National Convention are unbound by primary and caucus results.
Sanders refused to concede the election, responding to the AP announcement with a reminder that the superdelegates' votes don't count until the convention.
"It is unfortunate that the media, in a rush to judgement, are ignoring the votes of superdelegates before they actually vote at the convention this summer," the campaign said in a statement.
"Secretary Clinton does not and will not have the requisite number of pledged delegates to secure the nomination. She will be dependent on superdelegates who do not vote until July 25 and who can change their minds between now and then," the statement added. "Our job from now until the convention is to convince those superdelegates that Bernie is by far the strongest candidate against Donald Trump."
On Tuesday, June 7, six states are set to vote in primaries or caucuses, including California and New Jersey.
Sanders has vowed to continue running until after the Washington, DC primary on June 14.
You can share this story on social media: