Three Somali-Americans in Minnesota found guilty of plotting to join ISIS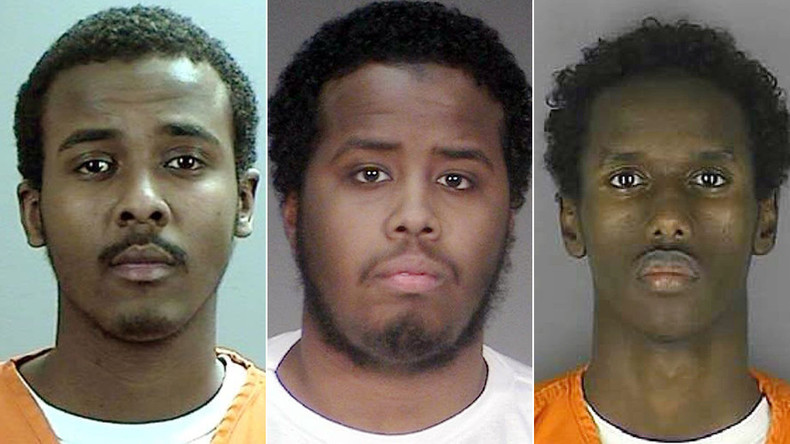 A federal jury found three Somali-Americans guilty of conspiring to provide material support to Islamic State and commit murder outside the US. The conviction could carry a life sentence.
Farah, Daud and Omar were part of a group of nine Somali-Americans arrested by the FBI last year. Federal prosecutors said they were part of a group of extended family and friends who planned to travel overseas and join the Islamic State (IS, formerly ISIS/ISIL) terror group.
Six of the men pleaded guilty to providing material support to IS, and some of them testified at the trial, Reuters reported. Another member of the group, also charged by the federal authorities, is believed to be in Syria.
Farah, Daud and Omar "participated wholeheartedly" in the conspiracy from early 2014 through April 2015, Assistant US Attorney John Docherty told jurors in US District Court in Minnesota.
Farah's attorney countered that his client wanted to fight with the Syrian rebels, not join IS.
"Right or wrong, that is not a crime," attorney Murad Mohammad told the jury, according to Reuters.
The jury composed of seven women and five men – all white, as Minnesota Public Radio reporter Mukhtar Ibrahim noted – returned their verdict Friday afternoon, after almost 14 hours of deliberations.
Key facts: 17 day trial, 300+ exhibits submitted as evidence, FBI informant testified for 17+ hours, jury deliberated for roughly 14 hours

— Joe Augustine (@JAugustineKSTP) June 3, 2016
The trial lasted 17 days, with more than 300 exhibits submitted as evidence, according to KTSP reporter Joe Augustine. The FBI informant involved in the case testified for over 17 hours.
Families of the three men called the verdict a travesty of justice. The trio was found "guilty of thoughts and ideas, not actions," Sadik Warfa, spokesman for the families, said after the court proceedings. The families are grieving, but plan to appeal the verdict, Warfa added, according to KTSP-TV.
All three men were arrested in April 2015. Omar was detained in Minneapolis, while Daud and Farah were arrested in California, after they drove from Minnesota to San Diego. They planned to travel to Mexico using false passports and proceed to Syria from there, the FBI said at the time.
The man accused of being the "emir" who organized the ISIS recruitment effort in Minnesota, Abdirizak Mohamed Warsame, was arrested in December.