Clinton denies responsibility for Libya chaos, blames 'obstruction of US efforts'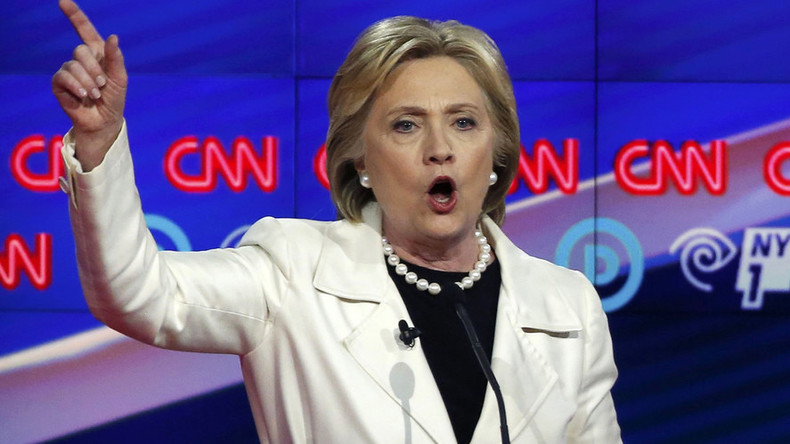 The US-led campaign in Libya left the country in chaos, but Hillary Clinton says she isn't to blame. The Democratic candidate said she exercised "due diligence," and the country's chaos is actually a result of the Libyans' "obstruction" of US efforts.
Since the overthrow of Muammar Gaddafi's government in 2011, Libya has been consumed by violence, with rival governments and armed groups fighting for control of the oil-rich state. It has also become a key operating base for Islamic State (IS, formerly ISIS/ISIL).
The situation has led countless analysts to refer to the country as a "failed state," but during Thursday's Democratic debate, Clinton was quick to stress that she can't be held responsible for the mess.
Instead, she said it was the fault of the Libyans, because they "obstructed" US efforts.
Libya "did not want troops from any other country, not just us, European or other countries, in Libya. And so we were caught in a very difficult position. They could not provide security on their own, which we could see and we told them that, but they didn't want to have others helping to provide that security," Clinton said.
"And the result has been a clash between different parts of the country, terrorists taking up some locations in the country."
However, Clinton did note that the situation wasn't entirely the fault of the Libyans. President Obama seemed to play a role, too.
"At the end of the day, those are the decisions that are made by the president to in any way use American military power. And the president made that decision," she said, noting that she herself did her job thoroughly and properly.
"...Did I do the due diligence? Did I talk to everybody I could talk to? Did I visit every capital and then report back to the president? Yes, I did. That's what a secretary of state does," she said.
Those statements were challenged by her opponent, Bernie Sanders, who said: "The New York Times told us it was Secretary Clinton who led the effect for that regime change."
Sanders went on to note that "regime change often has unintended consequences in Iraq and in Libya right now, where ISIS has a very dangerous foothold...I surely have always supported Libya moving to democracy. But please do not confuse that with your active effort for regime change without contemplating what happened the day after. Totally different issue."
However, despite global condemnation for the role of the US and NATO in Gaddafi's overthrow, Clinton went on to list the apparent victories achieved in Libya.
"I think we did a great deal to help the Libyan people after Gaddafi's demise...we helped them hold two successful elections, something that is not easy, which they did very well because they had a pent up desire to try to chart their own future after 42 years of dictatorship," she said, adding that she was "very proud of that."
She went on to state that they got rid of Gaddafi's chemical stockpile, "getting it out of Libya, getting it away from militias or terrorist groups."
"We also worked to help them set up their government. We sent a lot of American experts there. We offered to help them secure their borders, to train a new military," she said.
You can share this story on social media: