'Hillary for Prison': Cruz hints at jail time for Clinton under his presidency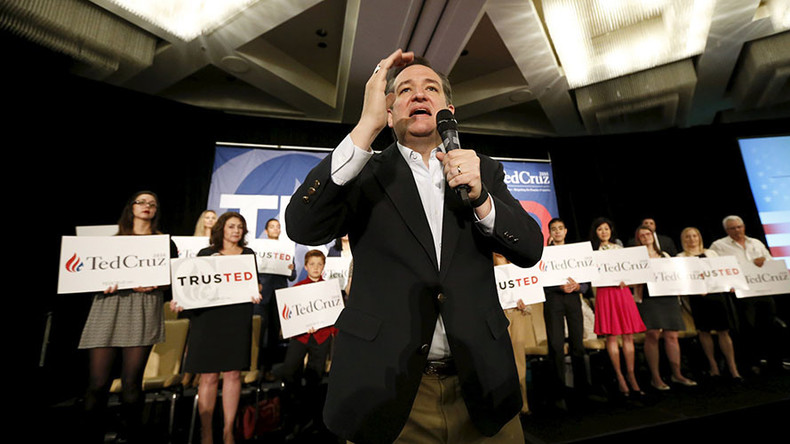 Hillary Clinton is campaigning to make the White House her next home, but she could find herself in "different government housing" if Ted Cruz is elected president. The Republican hinted that he would throw Clinton behind bars over her email scandal.
Speaking at a rally in Irvine, California, on Monday, Cruz said: "I've got slightly different government housing in mind for her."
Although Cruz did not elaborate on the comment, it is most likely in reference to the FBI's investigation into Clinton's use of a private email server while acting as secretary of state from 2009 to 2013.
It remains unclear just how serious Cruz was when he made the statement. However, his supporters responded to the comment with cheers and applause.
Within minutes of the speech ending, a vendor selling "Hillary for Prison" badges was completely sold out.
Cruz's comment on Monday comes after a statement made last year, in which he joked that Clinton would ultimately end up at the famous Leavenworth federal penitentiary.
Clinton's campaign has been tainted by her decision to use a private email server when acting as secretary of state, a move which many claim placed sensitive information at risk. Clinton has apologized for using the server, but insists she used secure channels for classified information.
The State Department has suspended plans for an internal review of whether classified information was properly handled, at the FBI's request.
Clinton's critics also point to her role in the death of four Americans at a US outpost in Benghazi, Libya, in 2012, with State Department emails apparently conflicting with her testimony of what happened the night the outpost was attacked.
However, despite efforts by Cruz to use Clinton's controversies to his advantage, recent polls show Clinton beating the Republican candidate in the November election, should they be the nominees for their respective parties.