Clinton leads Sanders with double digits among New York Democrats – poll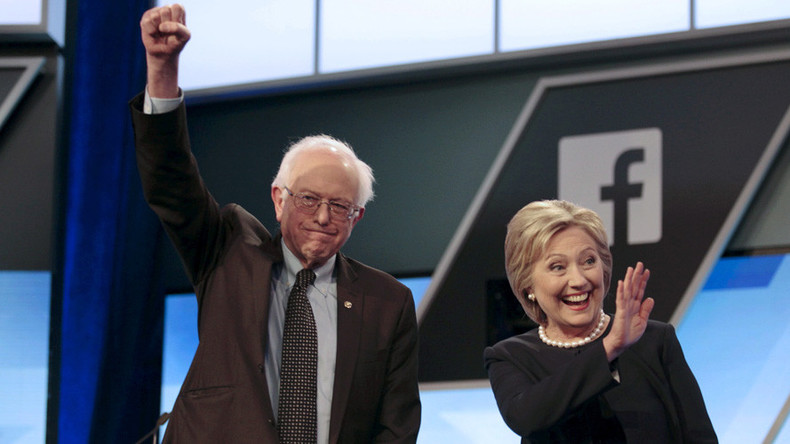 With only a week to go until the New York primary, Hillary Clinton is maintaining her double-digit lead over presidential rival Bernie Sanders, according to a Monmouth University poll. Both are hoping to leverage their claims as New Yorkers.
Clinton, who previously served as a US senator for New York, garnered support from 51 percent of New Yorkers, while Brooklyn-born Sanders earned 39 percent, according to a Monmouth University poll released Monday. Nine percent of respondents said that they had no preference for either candidate.
Among non-Hispanic white voters, the two candidates are nearly tied, with Clinton at 48 percent and Sanders at 46 percent. However, Clinton commands a considerable lead among black, Hispanic and other non-white voters, with 62 percent support compared to Sanders' 22 percent.
"I'm sure the Clinton camp was hoping for a much bigger lead in her adopted home state, but any such advantage appears to be limited against Sanders," said Patrick Murray, director of the Monmouth University Polling Institute, in a memo accompanying the poll results.
Clinton's support is distributed relatively evenly across the Empire State: 51 percent in Manhattan and the Bronx; 48 percent in Brooklyn and Queens; 51 percent in the Staten Island and New York City suburbs of Rockland, Westchester, Orange and Putnam counties; and 51 percent in upstate New York.
Sanders saw his strongest support in upstate and in metro suburbs, which supported him at 44 percent and 41 percent, respectively. The Vermont senator's weakest areas of support are in Brooklyn/Queens at 36 percent and Manhattan/Bronx at 35 percent.
Each candidate can, in their own way, call New York home. Clinton represented the state in the US Senate for eight years, while Sanders was born and raised in the state and speaks with a distinctive New York accent.
Voters seem to be split on the issue. Just 29 percent of respondents said that they would "definitely" consider Hillary Clinton a New Yorker, with 32 percent saying "somewhat" and 35 percent saying "not really." For Sanders, 28 percent said that he is "definitely" a New Yorker, with 30 percent saying that is "somewhat" of a New York and another 33 percent saying that he is "not really" a New Yorker.
The Monmouth poll was conducted from April 8 to 10, and surveyed 302 likely Democratic voters, with a margin of error of plus or minus 5.3 percentage points.
A Fox News poll released Sunday shows Republican frontrunner Donald Trump has an ever larger lead over his competitors there: the Manhattan billionaire wins the support of 54 percent of his fellow New Yorkers, compared to the 22 percent of Ohio.
Texas Senator Ted Cruz, who recently scored victories in Wisconsin and Colorado, garnered a paltry 15 percent of the support of New Yorkers.
During a recent radio interview, Trump took aim at Cruz for comments that the senator made decrying Trump's supposed "New York values" during a Republican debate in January.
"He hates New Yorkers. And he's trying to put a different spin on it now, like he's talking about liberal values," Trump told host John Catsimatidis.
"He's a very anti-New York guy, and if he ever made it to president, I guarantee New York could forget about the federal government."
The Fox News poll surveyed 602 New York voters between April 4 and 7, and has a margin of error of 4 percentage points.