Arkansas man tased, arrested after 'loud music' police citation turns violent
Published time: 4 Apr, 2016 16:42
Edited time: 19 Dec, 2016 23:38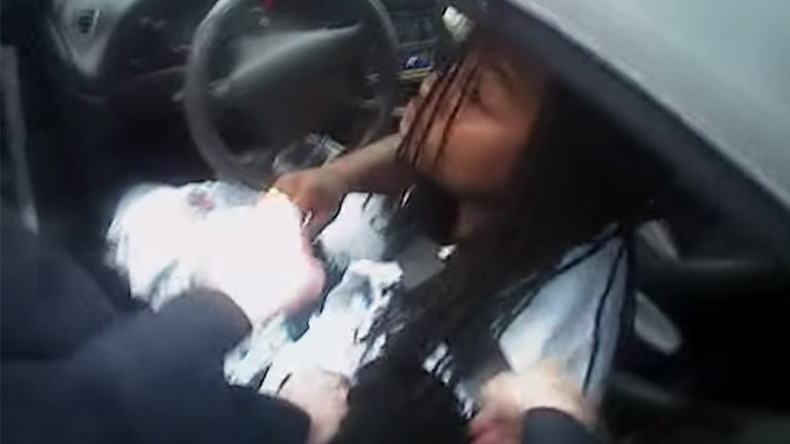 A citation for loud music in a convenient store parking lot turned violent as police in northeast Arkansas dragged an African-American man from his vehicle, tased him twice, then arrested him for "fleeing by vehicle" and resisting arrest.
"Get his ass out of the car," a Blytheville, Arkansas, police officer can be heard saying to other officers in footage of the March 27 arrest of Patrick Newbern Jr caught on the officer's body camera. The officer had just asked Newbern for his drivers license, then told him not to leave the parking lot of Lucky's Store as he wrote a citation for loud music.
The video, obtained by WREG, shows Newbern then moved his car before stopping while still inside the parking lot. Officers quickly surrounded Newbern's vehicle, calling on him to exit the car. Police say he refused to leave when they asked, prompting them to pull Newbern out of the vehicle.
Newbern said he had little time to detach his seat belt to exit the car before officers grabbed him and forcibly removed him from the car.
"When you ask me to get out the car, you open up the door snatching me out the car without letting me get out my seat belt," Newbern said, according to WREG. "How can I get out the car in my seat belt?"
A Blytheville police report of the incident said Newbern was shot at twice with a Taser and sprayed with a chemical agent as he allegedly resisted arrest. Police said he also tried to strike one of the officers and attempted to grab an officer's weapon.
In the video, Newbern can be heard pleading that he was not resisting as bystanders gathered around the scene.
"I see another Mike Brown and Trayvon Martin situation if you ask me," Newbern said, referencing the fatal August 2014 police shooting by a white police officer of unarmed black teenager Michael Brown in Ferguson, Missouri, which heightened scrutiny of police brutality in communities of color. Trayvon Martin was a black teenager who was unarmed when he killed by George Zimmerman, at the time a "neighborhood watch coordinator" for a gated community in Sanford, Florida. Zimmerman was acquitted of murder charges associated with the shooting.
Newbern was charged with fleeing by vehicle, resisting arrest, and violation of the city noise ordinance.
Blytheville police did not comment on the arrest to WREG.
The Mississippi County NAACP has called for the arresting officer to face discipline for the aggressive arrest, as well as for a higher quality of training for Blytheville police.
"As soon as I saw the video, it made me sick to my stomach," Tony Hollis, president of the Mississippi County NAACP, said, according to WREG.
Hollis said police reaction in the situation greatly increased tension to the point where "they even placed themselves in danger."
"They was attending to him and touching him and whatever – going inside his vehicle," he said. "That is not standard police procedure."
WREG reported that the Mississippi County NAACP will hold a rally in the coming weeks to call attention to the incident.