Police 'sexually assault' black couple during roadside cavity search (VIDEO)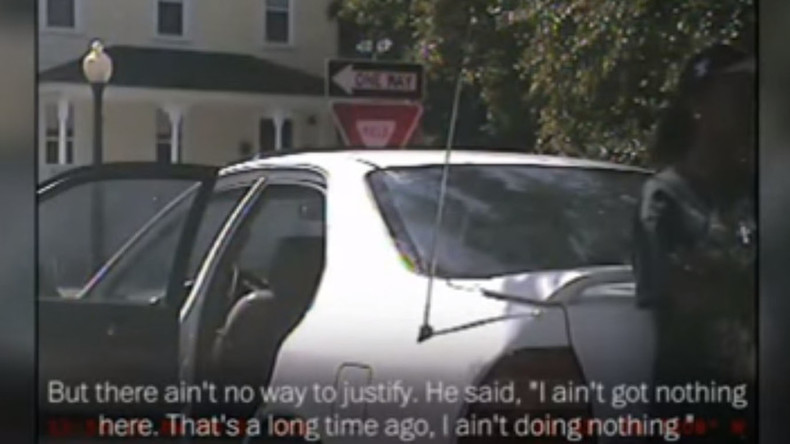 White police officers in the small South Carolina city of Aiken recorded themselves exposing an African-American driver's breasts and "searching" her partner's rectum, as revealed in a video released by the Washington Post.
Dashcam video of the October 2014 incident show local cops pulling over a vehicle under the guise of driving with a temporary paper license plate, which is not illegal in South Carolina.
Trigger warning: This video contains racist language and images of what's been called police harassment
Instead, the federal lawsuit filed last year, and revealed this week as part of the Post's investigation, says there were a number of procedural and constitutional failures, saying, "We refuse to create the suspect presumption in this state that every motorist traveling the highways with a temporary tag is guilty of driving an unregistered or uninsured car and is subject to detention until he or she can prove otherwise."
Passenger Elijah Pontoon was handcuffed and told it was because of his criminal record, even though the lawsuit points out there is no law to justify it.
Just before officers searched the car with a sniffer dog without any probable cause, according to the lawsuit, Officer Chris Medlin referred to him with an old-fashioned racist slur.
"Because of your history, I've got a dog coming in here," Medlin was heard saying. "Gonna walk a dog around the car. You gonna pay for this one, boy."
READ MORE: Racist texts by more San Francisco cops affect hundreds of cases
Lakeya Hicks, who was then searched off camera, said her breasts were exposed to a busy road and three male police officers.
The cavity search of Pontoon also took place off camera. Audio from the footage suggests nothing was found during the incident yet both people were not let go.
"We search the car. There ain't nothing in the car... And on a search of him, up in his crotch by the butt, I felt something hard," Meldin concluded on the radio. "I lifted his pants and pulled the back of his underwear down and I didn't see anything but I didn't get all the way up in there to get no vertical up shot. I just pulled his underwear back, but I didn't see nothing."
READ MORE: Names of 1 in 5 police officers involved in fatal shootings stay secret - report
Police behavior like this has been characterized as "sexual assault" in past cases, like when a 21-year-old woman in Texas says she was assaulted by Harris County sheriff deputies at a gas station after they conducted a full cavity search of her vagina for marijuana without her consent.
Charnesia Corley was arrested for drug possession and resisting arrest for refusing the search.
"I feel like they sexually assaulted me! I really do. I feel disgusted, downgraded, humiliated," Corley told KTRK-TV.
The charges were later dropped against her and she planned to file a complaint with the internal affairs division.
You can share this story on social media: