15yo girl sexually assaulted, pepper-sprayed outside Trump rally (VIDEO)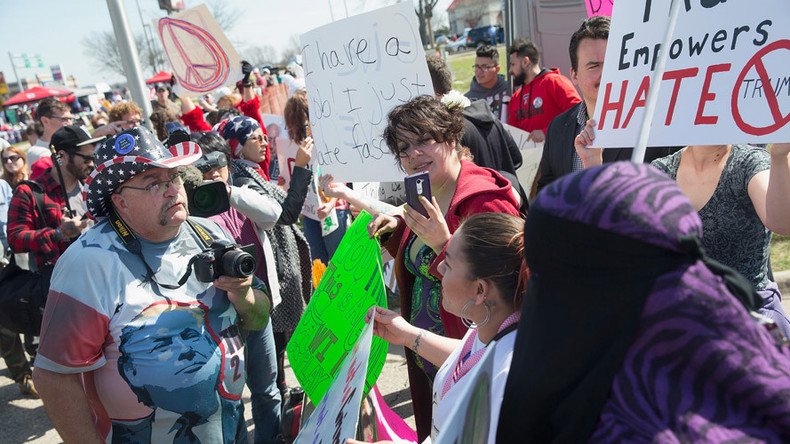 A teenage girl was sexually assaulted and pepper-sprayed outside a Donald Trump rally in Wisconsin, according to local police. The incident occurred after the girl tried to fend off a man in the crowd who had groped her.
"A 15-year-[old] girl from Janesville was pepper sprayed in the crowd by a non-law enforcement person. A 19-year-old woman from Madison received second hand spray as well. Both individuals received medical attention at local hospitals," the Janesville Police Department said in a statement.
"A male in the [crowd] groped the 15-year-[old] girl, when she pushed him away; another person in the [crowd] sprayed her. We are currently looking for two suspects, one for the sexual assault and one for the pepper spray," the department continued.
The incident on Tuesday was recorded in a video posted by Wisconsin State Journal reporter Molly Beck. The footage shows the girl shouting, "You f**king touched me" to a person in the crowd. A second voice can be heard saying, "I never touched her."
The 15-year-old appeared to be holding a sign accusing Trump of supporting white supremacy. She is standing next to a person holding a "Black Lives Matter" sign. Others in the crowd could be heard chanting "All Lives Matter."
The incident took place outside the Holiday Inn Express, where around 1,000 people had gathered in support of Trump.
It came just one day after six protesters were arrested on charges of disorderly conduct, obstructing an officer, and trespassing after they refused to leave the Holiday Inn Express lobby, police said.
The Trump campaign is reeling from another controversy, after it was reported that campaign manager Corey Lewandowski had been arrested after allegedly assaulting a Breitbart reporter. He is charged with simple battery.
Trump has defended his manager, calling the charge "unfair" and telling journalists that he believes the reporter "made the story up."
Wow, Corey Lewandowski, my campaign manager and a very decent man, was just charged with assaulting a reporter. Look at tapes-nothing there!

— Donald J. Trump (@realDonaldTrump) March 29, 2016
Raging tempers at Trump's rallies have led to concern from presidential candidate Hillary Clinton, who said: "What Donald Trump has been doing over these last months is inciting violent behavior, aggressive behavior that I think is very dangerous and has resulted in attacks on people at his events, including this charge that has now been brought against his campaign manager."
Earlier this month, a Trump rally in Chicago was canceled over security concerns, after protesters clashed with supporters inside an arena where he was due to speak.
Also this month, a white Trump supporter in Fayetteville, North Carolina, was seen sucker-punching an African-American protester who was being led out of the venue by police.
Despite concern about the violence at Trump's rallies, the presidential candidate has insisted "there is no violence" at his events.
"If one person gets up and starts shouting and the police walk that person out, they try and make it like it's a violent thing. It is not violent. It's a protester that stands up or probably a disruptor, because I think they're sent there by people on the other side," Trump told CNN.
"But there's no violence, nobody's been hurt," he added.
You can share this story on social media: