Chicago Trump rally cancelled amid protests, chaos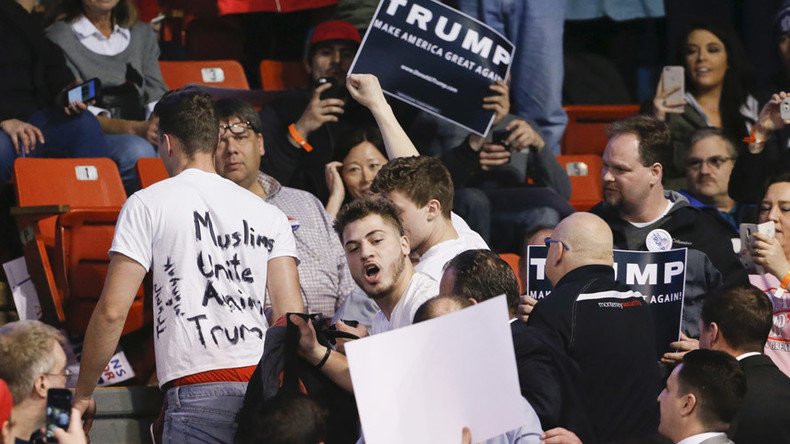 Tensions between protesters and Donald Trump supporters caused the last-second cancellation of the presidential candidate's rally in Chicago. An estimated 10,000 supporters were in the UIC Pavilion and are now facing the thousands of protesters outside.
The crowd inside of the University of Illinois Chicago Pavilion had been waiting for the Republican presidential hopeful to take the stage when an announcement was made that the rally had been canceled.
"Mr. Trump just arrived in Chicago and after meeting with law enforcement has determined that for the safety of all the tens of thousands of people that have gathered in and around the arena, tonight's rally will be postponed until another date," the announcement said. "Thank you very much for you attendance and please go in peace."
Protesters responded with cheers, while his supporters began chanting, "We want Trump!"
A man attempted to jump up on stage, but was removed by security. Several fights have been reported breaking out inside the Pavilion.
The situation outside was no calmer. Videos have surfaced of protesters and supporters nearly coming to blows as both groups had to be restrained.
"You can't even have a rally in a major city in this country anymore without violence, or potential violence," Trump told MSNBC's Chris Matthews.
Chicago police spokesman Anthony Guglielmi told CNN that there had been no reports of injuries or arrests at the event, and that the decision to postpone the rally had not been made by police.
"They did not consult us at all," he said, according to USA Today. "The decision was made by the campaign on its own."
Speaking with MSNBC, the GOP front-runner said the campaign "did the right thing."
"It's anger in the country," Trump said. "I don't think it's directed at me. Just what's been going on for years."
Trump also spoke to CNN over the phone on Friday evening, shrugging off questions about his supporters potentially reacting to the protest with force.
"I don't incite violence, and I certainly don't condone violence," Trump said.
You can share this story on social media: