Deadlocked Supreme Court ruling sides with public-sector unions
Published time: 29 Mar, 2016 18:05
Edited time: 29 Mar, 2016 18:08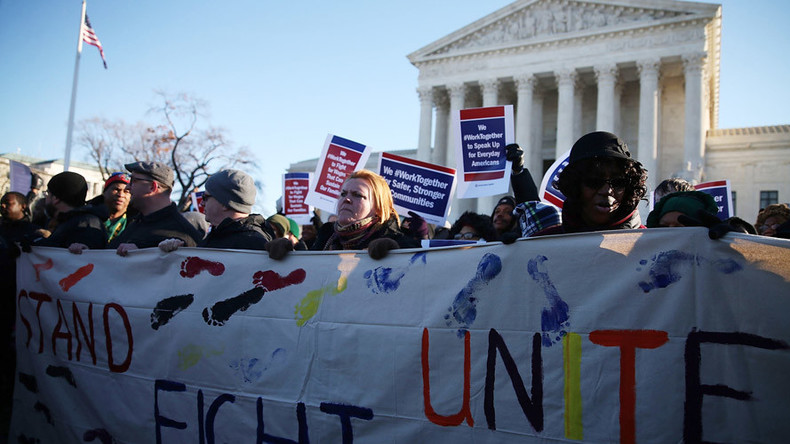 The US Supreme Court issued a 4-4 decision in a case that challenged the legality of public unions collecting mandatory "fair share" collective bargaining dues from non-union employees. The split decision means a lower court's pro-union ruling will stand.
During oral arguments in January, the case ‒ Friedrichs v. California Teachers Association ‒ seemed destined for a decision in favor of the plaintiffs, with conservatives holding a majority on the court. Conservative Justice Antonin Scalia passed away in February, however, leaving the court deadlocked.
"The judgment [of the lower court] is affirmed by an equally divided Court," the justices said in a brief statement.
Half of all US states have barred public sector unions from collecting mandatory fees from non-union members. A Supreme Court decision in favor of the plaintiffs would have stretched that ban to the entire nation, in what would have represented a major blow to organized labor in the US. Law experts have described the case as vital to the ongoing existence of public sector unions.
"The U.S. Supreme Court today rejected a political ploy to silence public employees like teachers, school bus drivers, cafeteria workers, higher education faculty and other educators to work together to shape their profession," said Lily Eskelsen García, president of the National Education Association, the nation's largest union.
Led by Rebecca Friedrichs, an Orange County teacher, the plaintiffs argued that mandatory collective bargaining dues collected from non-union members by the California Teachers Association was a violation of their First Amendment rights against compelled speech.
Lawyers for the plaintiffs argued that, though public unions are not allowed to collect fees from non-members regarding political or ideological advocacy, the fees they are allowed to collect pertaining to collective bargaining agreements do, in fact, involve political issues like wages or employee grievances.
Friedrichs' lawyer, Michael A. Carvin, argued that such an arrangement is "unworkable" in the public sector.
"Bedrock First Amendment principles forbid the compelled support of ideological advocacy," Carvin said.
Lawyers for the plaintiffs said Tuesday that they will file a rehearing petition in the case, given the 4-4 split decision, SCOTUS Blog reported.
The California Teachers Association said the system was necessary for "fair allocation" of costs that benefit both union and non-union employees. Dues from non-union members allow a public sector union to serve all interests in the process of collective bargaining agreements pertaining to terms and conditions of employment, among other issues, they said.
"Outlawing fair-share fees will override the judgments of 23 States plus the District of Columbia that have enacted statutory collective-bargaining frameworks covering public-education employees," David C. Frederick, attorney for the public teachers union, argued in court filings.
He added: "It will also throw into disarray tens of thousands of collective bargaining agreements governing millions of teachers, police officers, firefighters, first responders and other public employees."
In 1977, the US Supreme Court upheld laws the required non-union public employees to pay the costs of collective bargaining. The split decision in Friedrichs allows this precedent to remain in effect.