Cuban migrants rescued at sea after being shot by 'criminals who wanted to steal their raft'
Published time: 28 Mar, 2016 16:52
Edited time: 28 Mar, 2016 16:53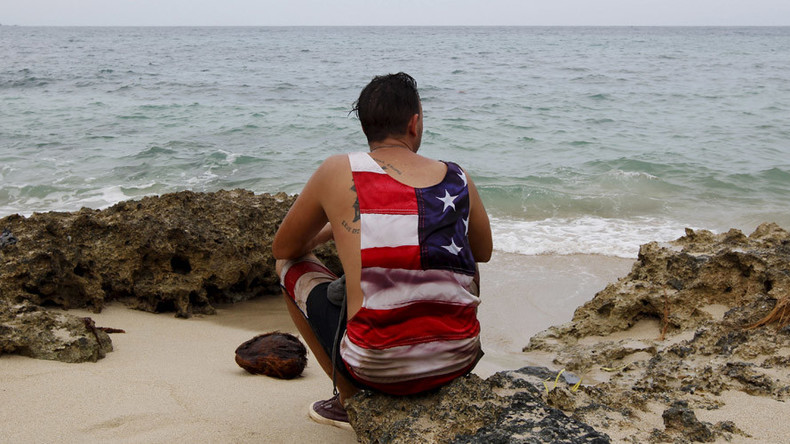 The US Coast Guard stopped a makeshift raft on the outskirts of Key West, Florida, finding 26 migrants, seven of whom had suffered gunshot wounds. One of the injured said "criminals" had tried to steal the boat as the migrants were leaving Cuba.
The boat was found by the Coast Guard nine hours after leaving Matanzas, east of Havana, at around 3am on Saturday, March 26, according to refugees interviewed in Miami after they were released from a Key West hospital.
"We really don't know who shot us, but we think it was criminals who wanted to steal the raft," said Yaser Cabrera Romero, a released refugee shot in the abdomen, the Miami Herald reported. "We were just arriving in a vehicle that took us to the raft, and while we were still on shore, four people showed up and yelled: 'Stay where you are. The boat is ours!' "
The bullet remains inside Cabrera Romero, he told reporters. His wounds were not life-threatening, he said.
"They gave me morphine, but I have still have the bullet inside and it hurts a lot," said Cabrera Romero, who was on his third attempt to flee Cuba to the US, according to WFOR. "I've had that bullet in me for more than 24 hours."
Jorge Luis Escalona, a refugee shot in the side, said the shooting was likely part of an attempted robbery.
"We confronted them and one drew a gun," Escalona said. "It was very dark, and we think they were criminals who wanted to steal our raft."
Cabrera Romero and Escalona were two of four migrants released out of the six who were hospitalized at Lower Keys Medical Center on Stock Island, according to KeysInfoNet. The four were taken to the Doral, Florida, office of Church World Service, an agency that aids refugees and immigrants attempting to resettle in the United States.
Migrants found sick or injured by the Coast Guard are taken ashore for medical care. The four released from the hospital are now eligible to stay in the US and can apply for permanent residency after one year, pursuant to the Cuban Adjustment Act.
Two other wounded refugees, including a pregnant woman who was shot in the back, remain hospitalized, according to reports. The seventh wounded rafter, who was shot in the foot, remained with the 19 unharmed migrants. Those 20 were taken by the Coast Guard and will likely be repatriated in Cuba unless they claim fear of persecution upon return, in which case they would be taken to the US naval base at Guantanamo Bay to be arranged for resettlement in a third country.
The Coast Guard would not offer details on the shooting, but only that there is an "ongoing investigation" taking place.
The Coast Guard said in a statement that it "works hard to ensure the safety of migrants on our cutters after an interdiction and strongly discourages attempts to illegally enter the country by taking to the sea. These trips are extremely dangerous and could lead to loss of life."
The Coast Guard has said that a boom in migrants from Cuba has occurred since President Barack Obama's announcement of normalized relations with Cuba in December 2014. Last week, Obama became the first sitting US president to visit Cuba in nine decades. While there, he called on the US Congress to to end to embargo of Cuba, arguing not only that it was harming the Cuban people, but also that it was a burden on Americans who want to invest and do business in the country.
"A policy of isolation designed for the Cold War had no place in the 21st century," he said, all while imploring Cubans to advocate for democratic reforms on the socialist island.
Thus far in fiscal year 2016, 2,562 Cuban migrants have been intercepted, sighted, or have successfully made the voyage to Florida, according to Coast Guard data cited by the Herald. In fiscal year 2015, 4,476 Cuban migrants attempted or completed the journey, marking a seven-year high.