'Embargo is going to end': Obama, Raul Castro speak after historic meeting in Cuba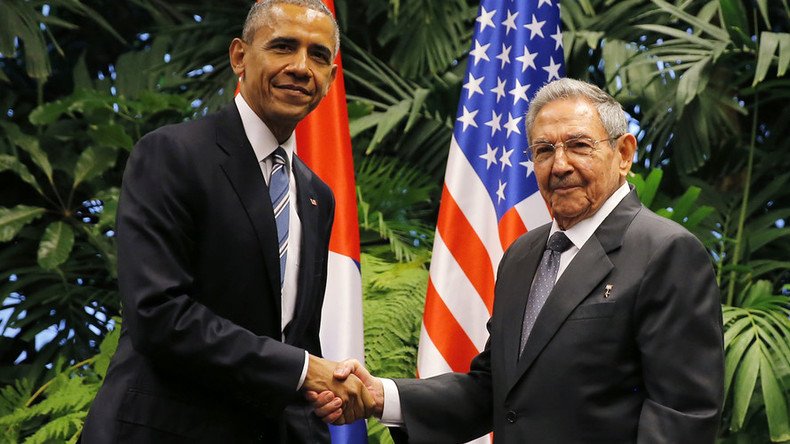 Cuban President Raul Castro and US President Barack Obama spoke to the public after their first meeting on the island. The two leaders announced the signing of several agreements to increase cooperation and economic investment between their countries.
The two countries have already signed agreements to re-establish postal traffic and commercial flights, Castro said, and signed two memoranda of understanding on environment and sea navigation. Talks are under way on agricultural cooperation, as well as jointly battling narcotics trade, infectious diseases such as Zika, and cancer.
"Much more could be done if the US blockade were to be lifted," Castro said, calling the Obama administration's most recent measures "positive but insufficient."
Castro also repeated the long-standing Cuban request for the US to return the "territory illegally occupied by the Guantanamo naval base" before normal relations could be re-established.
"There are profound differences between our countries that will not go away," Castro said, adding that the US and Cuba should be able to coexist "in a civilized manner."
"This is a new day between our two countries," said Obama in English and Spanish, thanking his Cuban hosts for their hospitality.
He also thanked Pope Francis for helping mediate the thaw between the US and Cuba.
"We have half a century of work to catch up on," Obama said. "Cuba's destiny will not be decided by the US or any other nation. The future of Cuba will be decided by Cubans, not by anybody else."
Obstacles have been removed for US commercial flights and cruise ships visiting the island, and the use of US dollars in Cuba, Obama said.
The US is also opening grants and scholarships to Cuban students, and offering English-language training to teachers.
"Fortunately, we don't have to swim with sharks to achieve the goals that you and I have set forth," Obama said, referencing Castro's earlier remark of a US swimmer who made the crossing without a shark cage.
Cuba has been invited to the regional energy summit this summer in Washington. The next US-Cuban human rights dialogue will be in Havana, later this year.
"We are moving forward and not looking backwards," Obama said in response to a question about political differences with Havana. "We don't view Cuba as a threat to the United States."
"I personally would not disagree" with Castro's argument that education, healthcare and security in old age are also human rights, Obama added.
Castro deflected a question about his preference for Hillary Clinton or Donald Trump. "I cannot vote in the United States," he said, to chuckles from the press corps.
His demeanor hardened when he addressed a US journalist's query about political prisoners in Cuba. "Give me a list of political prisoners, or even just a name," Castro said, "and they will be released by the evening."
Congress would have to repeal the law putting the embargo in place, Obama explained in response to a Cuban journalist. "The list of thinks that we can do administratively is growing shorter, and the bulk of changes that need to be made in respect to the embargo will now depend on Congress," he said.
"The embargo is going to end," Obama said, but would not give a timeline, noting that it will depend on many factors.
Obama added that the speed with which Congress would act to remove the blockade directly depended on Cuban "progress" on human rights.
"We can't force change on any particular country. Ultimately, it has to come from within," he said.
"Human rights issues should not be politicized," Castro said, adding that Cuba complies with 47 out of 61 international human rights instruments, and no country complies with them all. In Cuba, healthcare and education are considered human rights, as well as equal pay for equal work to men and women, he said.
Obama arrived in Havana on Sunday, in the first visit to Cuba by a sitting US president in 88 years.
"I've come to Havana to extend the hand of friendship to the Cuban people. I'm here to bury the last vestige of the Cold War in the Americas and to forge a new era of understanding to help improve the daily lives of the Cuban people," Obama said in a statement earlier on Monday.
You can share this story on social media: