Pentagon names 13 possible sites in US to replace Gitmo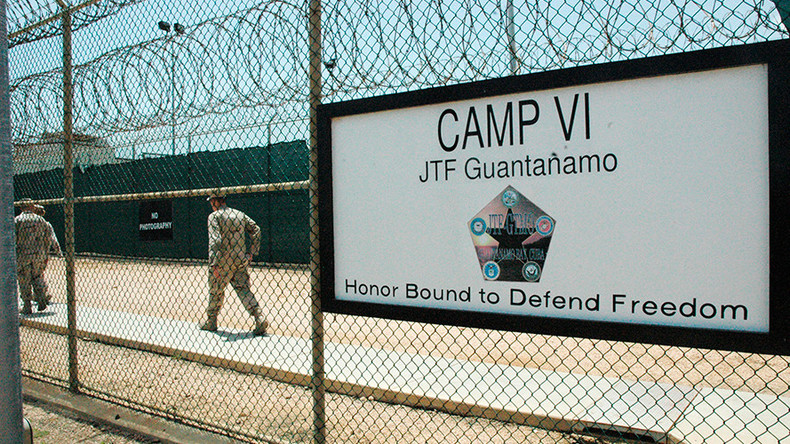 The Pentagon officially submitted to Congress a proposal to close the military detention center at Guantanamo Bay, Cuba. The plan refers to 13 unspecific prisons in the US where the government could transfer up to 60 detainees at a cost of $475 million.
In his remarks from the Oval Office on Tuesday morning, President Barack Obama appealed to "a country committed to universal values" in order to close Gitmo, which, he said, "does not advance our national security. It undermines it."
Obama said the prison is too expensive, and that terrorists like Al Qaeda and Islamic State (IS, formerly known as ISIS/ISIL) use the facility in propaganda and recruitment efforts. He added that the prison harms US partners and allies.
"Keeping this facility open is contrary to our values," Obama said, calling it a "stain on our broader record" on human rights.
The transfer of 30 to 60 remaining detainees at Gitmo would be far cheaper ‒ as much as $85 million less ‒ than continuing to house them at Guantanamo Bay, an Obama administration official told news outlets on Tuesday. Prior to any closure of Gitmo, about 35 prisoners are expected to be transferred to accepting nations by the end of 2016.
The plan includes mention of 13 possible prison sites to house remaining detainees, yet it does not endorse any particular facilities. Among the potential sites the White House has been mulling over are a navy brig in Charleston, South Carolina; the US Justice Department's Supermax prison in Florence, Colorado; and another two facilities at the Army base in Fort Leavenworth, Kansas – the US Disciplinary Barracks and Midwest Joint Regional Corrections Facility.
Obama said the US continues to defend a facility where "not a single verdict has been reached in those attacks."
He added that President George W. Bush, whose administration opened the prison following the attacks of September 11, 2001, wanted to close Gitmo, and that shuttering the facility was a point of agreement between Obama and Senator John McCain, his opponent in the 2008 presidential race. Yet since he took office, Obama said politics have restricted closure of the detention center.
He said the Pentagon plan is the best way to go forward, calling the US prison system the best place to house detainees. Obama said the proposal includes heightened efforts to "securely and responsibly" transfer detainees out of US custody, to "accelerate reviews" of remaining detainees, to use "all legal tools" to deal with remaining detainees, and to work with Congress to find a secure location for all Gitmo detainees that will remain in US custody.
"The politics of this are tough," Obama said, attempting to reassure Americans that US maximum-security prisons are good enough to ‒ and, in fact, already do ‒ hold detainees deemed terrorists by the US government.
After the president finished his remarks, McCain condemned the plan, saying that Obama "missed a major chance to convince the Congress and the American people that he has a responsible plan."
As the chair of the Senate Armed Services Committee, McCain promised told hold hearings on the submission, which he called "a vague menu of options, not a credible plan for closing Guantanamo, let alone a coherent policy to deal with future terrorist detainees."
The proposal is contingent on cooperation from a Congress that has thus far been resistant to any major changes or transfers to the detention facility at Gitmo. The Republican-led Congress would be required to change a current law that prohibits the Obama administration from spending money to transfer detainees, many held without charge or trial, to the mainland United States.
On Monday, lawmakers signaled their opposition to the plan even before the proposal was officially submitted to Congress. Senator Kelly Ayotte (R-New Hampshire) slammed the administration for a lack of detail about the plan, calling a closure of Gitmo an effort to "make Americans less safe."

"The American people have a right to expect that the administration will be transparent and honest with them about the activities and associations of the terrorists who remain at Guantanamo," Ayotte said Monday. "The administration's refusal to do so only underscores the fact that closing Guantanamo will make Americans less safe."
Announcement of the Gitmo proposal comes about a month before Obama travels to Cuba. The visit will mark the first time a sitting US president has set foot in Havana since President Calvin Coolidge did so 88 years ago, in 1928.