Obama plan to shut Guantanamo names no sites to replace Cuba-based prison – report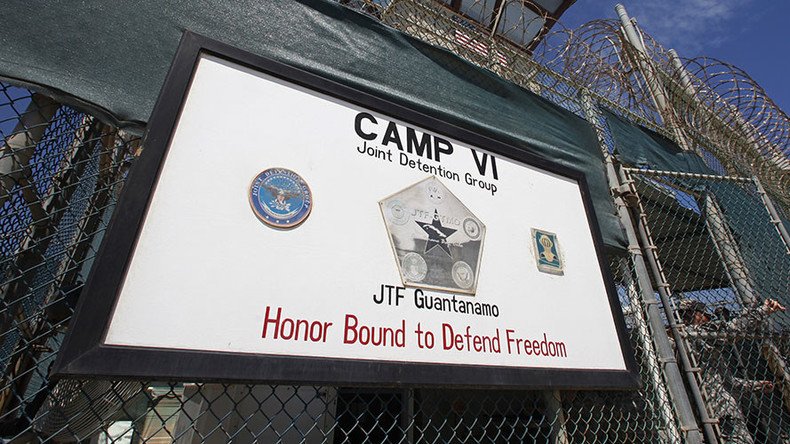 President Barack Obama is expected to submit a plan to Congress outlining steps to close Guantanamo Bay. His long-awaited blueprint reportedly does not name specific locations that could replace the US prison in Cuba, however.
The administration is going to submit the Pentagon-drafted plan on Tuesday, meeting a congressionally-mandated February 23 deadline.
"The plan is to submit to Congress what our thoughts are on the issue and what we see is a way ahead necessary to achieve the closure of Guantanamo and to specifically point out the need for legislative relief," Pentagon spokesman Navy Captain Jeff Davis said on Monday.
It is anticipated that Obama's final plan will focus on a strategy for closing the notorious facility by the end of his presidency. Some 91 prisoners remain there.
Obama is seeking to either hand detainees over to third-party countries that are willing to take them, or transfer them to the US soil. The latter option would require new legislation and has largely been opposed by Congress, however – particularly by its Republican members. A 2011 law bans the military from transferring Guantanamo detainees to the US.
"We're going to continue to transfer detainees to other countries that agree to take them," David said. "And take steps to make sure that the threat that they pose to the US is limited. Second, that we'll continue to prosecute those that can be prosecuted. And third, that there's this small group of individuals that can neither be safely transferred nor prosecuted."
Congress is specifically looking forward to seeing the six "elements" that it had stipulated must be part of the plan in the National Defense Authorization Act (NDAA). These include a list of potential sites, estimated expenses, and proposals on what to do with future detainees.
Last year, Pentagon officials examined about seven facilities in the US that could replace Guantanamo and host remaining prisoners.
The White House has been mulling over several potential sites, including a navy brig in Charleston, South Carolina; the US Justice Department's Supermax prison in Florence, Colorado; and another two facilities at the army base in Fort Leavenworth, Kansas – the US Disciplinary Barracks and Midwest Joint Regional Corrections Facility.
However, according the Guardian, Obama's blueprint does not name alternative sites in the United States. Citing an unnamed source familiar with the plan, the newspaper reported that Obama is going to try to persuade the legislators to engage in a dialogue about lifting the ban.
"The odds are pretty slim that Congress is going to go along with the plan, particularly the House," the source said.
According to the newspaper, "administration aides" have suggested that Obama could take executive action to relocate detainees.
Ninety-one detainees currently remain in Guantanamo – down from 242 in 2009, when President Obama took office.
As of February 22, 56 of Guantánamo's 91 detainees were designated for so-called post-Guantanamo detention, meaning they will have to be relocated if the facility closes. These prisoners, considered too dangerous to release, include 10 prisoners who were charged or convicted before Guantanamo military tribunals.
Closing Guantanamo Bay was one of Obama's major promises in the 2008 presidential race. At the time, he argued that the prison was being used as a terrorist propaganda tool.
You can share this story on social media: