Obama set for historic Cuba visit as 'well expired' US policy shifts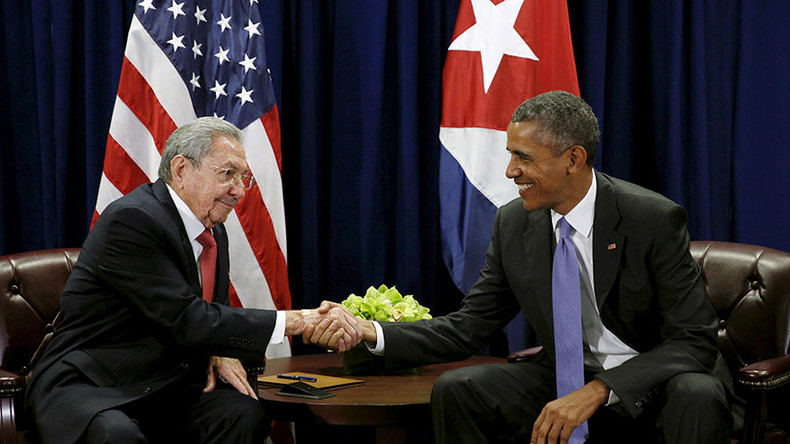 US President Barack Obama is to visit Cuba next month, becoming the first sitting American head of state in nearly 90 years to set foot on the Caribbean island.
Obama confirmed the historic trip on Twitter Thursday as part of an ongoing effort to normalize relations between the two nations.
He acknowledged that while the neighboring governments still have issues to resolve, the trip would try to "advance our progress and efforts that can improve the lives of the Cuban people".
The last time an acting US president made a trip to Cuba prohibition was in full flow and sliced bread had only recently been invented.
Back in 1928, President Calvin Coolidge travelled to the capital city Havana via battleship USS Texas for the Sixth Pan American Conference.
Obama's planned trip is the latest development in the significant thawing of US relations with Cuba. The island is currently run by Raúl Castro, brother of Fidel - whom the US government tried to overthrow in the ill-fated Bay of Pigs invasion in 1961.
After Fidel Castro seized power from the American-backed Batista government in a 1959 revolution, diplomatic ties between Cuba and the US soured significantly. These ties were eventually severed in 1961 as Cuba developed stronger relations with America's Cold War rival, the Soviet Union.
A damaging US trade embargo on Cuba has been in place for more than 50 years, preventing American companies from importing Cuban goods or exporting to the Latin American nation.
In the wake of Obama's trip announcement, White House National Security Advisor Ben Rhodes described US policy on Cuba as "well beyond its expiration date".
It's a similar message to the one previously expressed by former US Senator Byron Dorgan, who played a key role in lifting a food and medicine embargo on Cuba.
In a lengthy blog post, Rhodes said: "For more than 50 years, the United States pursued a policy of isolation and pressuring Cuba. While the policy was rooted in the context of the Cold War, our efforts continued long after the rest of the world had changed."
"We want to open up more opportunities for US businesses and travelers to engage with Cuba, and we want the Cuban government to open up more opportunities for its people to benefit from that engagement."
Rhodes added that Congress could eventually lift the current embargo "which is not advancing the Cuban people's individual well-being and human rights".
But not everyone is happy with the softening US-Cuba relationship, with some Cuban exiles feeling like they have been betrayed.

"President Barack Hussein Obama is calling the communist Castro brothers 'presidents' when we haven't had elections down there for more than 60 years. He is recognizing a totalitarian government," a Cuban national, living in Miami, told RT.
Meanwhile, another Cuban national outlined his opposition to strengthening ties with Washington: "Obama doesn't represent us. No to Obama and no to his deal with the Castros."
You can share this story on social media: