US Navy captain convicted in $34 million 'Fat Leonard' scandal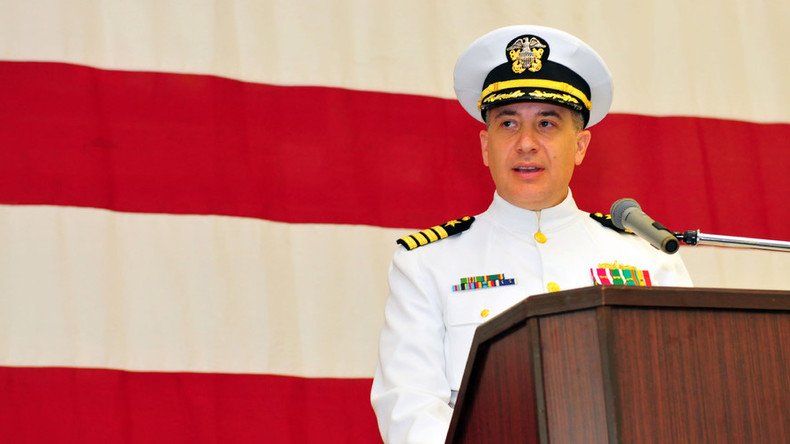 A sordid tale of bribes, back-room deals, prostitution, and fraud has claimed the career of yet another US naval officer. Captain Daniel Dusek has become the highest-ranking officer to be convicted in what has become known as the "Fat Leonard" affair.
Dusek, 49, was sentenced to 46 months in federal prison on Friday for accepting cash, luxury travel, and prostitutes in exchange for re-routing his warship to ports controlled by a powerful contractor, Leonard Francis, known to the Navy as "Fat Leonard."
"It's truly unimaginable to the court that someone in your position with the United States Navy would sell out based on what was provided to you – hotel rooms, entertainment and the services of prostitutes," U.S. District Judge Janis L. Sammartino told Dusek at a sentencing hearing in San Diego, California.
The disgraced captain was also ordered to pay a $70,000 fine and another $30,000 in restitution to the Navy. He will report to a federal penitentiary in Sheridan, Oregon in June, and is likely to be discharged from the Navy as well.
"I think the Navy will take steps at this point to administratively separate him," said Assistant US Attorney Mark Pletcher, according to KNSD TV.
While serving as deputy operations officer aboard the USS Blue Ridge – the Seventh Fleet's command ship – from January 2009 to February 2011, Dusek provided classified information to the Singapore-based contractor and his associates "dozens of times," court documents said. In return, he received cash, free accommodation at a hotel in Hawaii, and the services of a prostitute in the Philippines, which together were valued at approximately $10,000, according to federal prosecutors.
Leonard Glenn Francis, President and CEO of Glenn Defense Marine Asia (GDMA), was arrested in September of 2013 and pleaded guilty to federal conspiracy charges in January of 2015. GDMA serviced Navy ships for 25 years and held more than $200 million in contracts with the US Seventh Fleet for several Pacific ports across Asia. The company has allegedly over-billed the US Navy by at least $20 million since 2009.
In his emails, Francis described Dusek as a "golden asset to drive the big decks into our fat revenue GDMA ports," referring to aircraft carriers and Marine assault carriers. In 2012, Dusek was promoted to command of the USS Bohnomme Richard, a Wasp-class assault ship named after the legendary sailing ship commanded by John Paul Jones during the American Revolution.
The decade-long fraud scheme is believed to have involved over 100 Navy personnel, as well as others. Several suspects have been arrested, including a senior member of the Naval Criminal Investigative Service (NCIS) who was charged with investigating such crimes.
Dusek is the most senior naval officer to be convicted in the probe so far. Commander Michael Vannak Khem Misiewicz pleaded guilty to corruption charges in January, admitting that he had provided classified information to Francis in exchange for various treats – including paid travel, luxury hotel stays, sex with prostitutes, and Lady Gaga concert tickets.
Rear Admirals Terry Kraft and Michael Miller were censured and forced into retirement last year, while David Pimpo was demoted to captain before being allowed to retire as well.
Due to suspicions raised by the scandal, the head of the Office of Naval Intelligence, Vice-Admiral Ted Branch, has been barred from accessing classified information since November 2013. His deputy at the time, Rear Admiral Bruce F. Loveless, likewise lost his clearance privileges and was reassigned to the Navy's Information Dominance Corps.
Neither officer has been charged with any wrongdoing, but neither has been cleared either, leaving their statuses in limbo.
"We have no actionable information on Admiral Branch, good, bad or otherwise. All we know is that he's wrapped up in this somehow," a senior Navy official told the Washington Post in January on condition of anonymity. "Until these things resolve themselves, we're kind of frozen."
You can share this story on social media: