3 Navy admirals censured over corruption scandal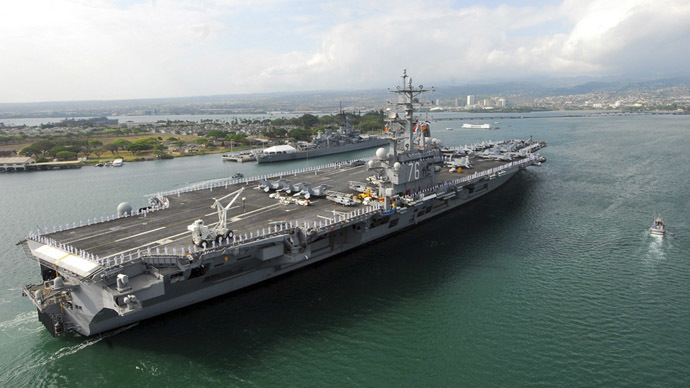 The US Navy has officially reprimanded three rear admirals linked to the Glenn Defense Marine Asia scandal. The officers allegedly provided confidential information to a contractor in exchange for luxury travel, prostitutes, and other bribes.
Rear admirals Terry Kraft, Michael Miller, and David Pimpo were issued censure letters by Secretary of the Navy Ray Mabus over their role in the Glenn Defense Marine Asia (GDMA) corruption case, more specifically during a 2006 deployment of the USS Ronald Reagan.
BREAKING: US #Navy censures 3 #admirals in #FatLeonard scandal: Miller, Kraft, Pimpo http://t.co/0wAFmOZBLLpic.twitter.com/Q2eGcphDPn

— Chris Cavas (@CavasShips) February 11, 2015
During that deployment, Miller was the strike group commander, Kraft the aircraft carrier's commanding officer, and Pimpo the supply officer.
"These three officers, whose actions were revealed during the GDMA investigation, demonstrated poor judgment and a failure of leadership in prior tours," Mabus said in a Navy statement.
The Navy said the letters were given to "ensure that individuals are held appropriately accountable when less than criminal allegations are substantiated."
The admirals accepted illegal gifts from Singapore-based Glenn Defense Marine, a company that managed port services for American ships in Southeast Asia. In addition, two of the officers were found to have improperly endorsed a commercial business and one solicited gifts and services while aboard the Ronald Reagan, the Navy said.
READ MORE: Navy charges fourth official in worst corruption scandal in decades
"The review concluded that these officers violated the Standards of Ethical Conduct, US Navy Regulations, and/or the Joint Ethics Regulation, demonstrating poor judgment and a failure of leadership," the Navy said.
"More specifically, the review concluded that the solicitation and acceptance of these gifts as well as the inappropriately familiar relationship with Mr. Leonard Glenn Francis, President and Chief Executive Officer of GDMA, cultivated an unacceptable ethical climate within the respective commands."
Francis, known as "Fat Leonard," was arrested in September 2013. He pleaded guilty to federal conspiracy charges on Jan. 15. His company serviced Navy ships for 25 years and held more than $200 million in contracts for ship husbandry and maintenance for the Seventh Fleet across several Asian Pacific ports. Since 2009, the company has allegedly over-billed the US Navy by at least $20 million.
READ MORE: Third high-ranked Navy official arrested in 'secrets for hookers' bribery scandal
All three admirals have sought retirement, according to Reuters. Those requests, Mabus said, will be processed. None of the three could be reached for comment.
Since October, four Navy officers and two company officials have pleaded guilty to conspiracy to commit bribery associated with the GDMA scandal. Two other Navy officers have maintained their innocence in the face of bribery allegations.
Last week, a former Navy contracting official became the ninth person charged in the GDMA corruption case.
Last month, Jose Luis Sanchez became the highest-ranking official to plead guilty to taking various bribes, including a prostitute and luxury travel, as well as sums reaching up to $120,000.
You can share this story on social media: