Meet US Navy intel chief who wasn't allowed to learn secrets for 2 years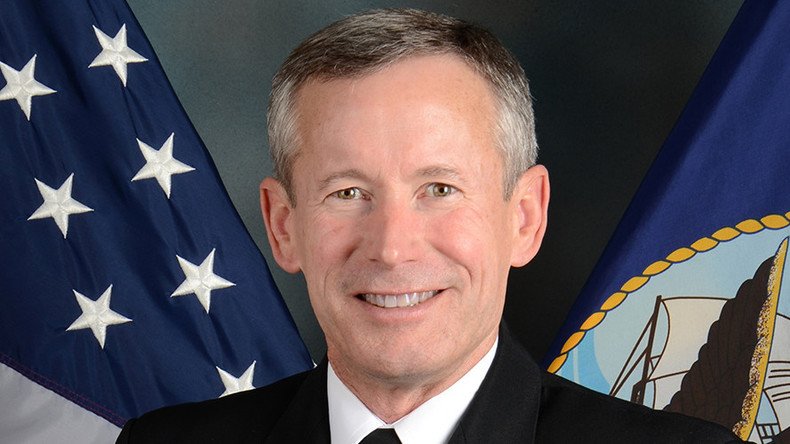 Two US Navy admirals, including the head of its intelligence, have been barred from accessing any classified information since November 2013, when their clearance was stripped over alleged involvement in a massive bribery scheme.
The navy removed the security clearance for Vice-Admiral Ted Branch and Rear Admiral Bruce F. Loveless after learning that their names had surfaced in Justice Department investigation into a decade-long corruption scheme in the service. The suspension came as the naval leadership was concerned that the two may be indicted, but this never happened. However neither's name was cleared of wrongdoing, so both admirals are still not allowed access to any classified information.
Branch remains the head of the Navy's intelligence. Loveless, who was Branch's deputy at the time the scandal broke out, has been transferred in December 2015 to a slightly less-sensitive position of corporate director of the Information Dominance Corps, which combines some 55,000 professionals in communications, cyberwarfare, intelligence, counterintelligence and meteorology. Branch oversees the corps.
The navy assures that the awkward arrangement does not compromise its operations as civilian and military deputies of the two admirals, who have security clearance, took over the parts of their jobs requiring access to classified information.
But privately some naval leaders told the Washington Post that they never expected the Justice Department investigation to take that long, leaving Branch and Loveless in limbo.
"We had the understanding that this was going to resolve itself pretty quickly," a senior navy official told the newspaper, speaking on condition of anonymity to avoid antagonizing federal prosecutors. "We have no actionable information on Admiral Branch, good, bad or otherwise. All we know is that he's wrapped up in this somehow."
"Until these things resolve themselves, we're kind of frozen," the official added. "Is it optimum? No, it's not optimum. But it's where we are."
The scandal that the two admirals were dragged into revolves around Singapore-based US Navy contractor Glenn Defense Marine Asia. Its CEO Leonard Glenn Francis pleaded guilty to receiving some $35 million of ill gains from overcharged navy contracts in January 2015.
Francis, known as Fat Leonard in US Navy circles, allegedly bribed officers with luxury presents, sex from prostitutes, envelopes full of cash, and other treats so that they used his company's services and shared with him classified information.
The decade-long fraud scheme is believed to involve over 100 navy personnel and other people. Several of them have been arrested, including a senior member of the Naval Criminal Investigative Service, the body charged with investigating such crimes. Six people in addition to Francis pleaded guilty to charges relating to the scandal.
A source close to the investigation told the Post that Branch met Francis 16 years ago, when Branch was the executive officer of the aircraft carrier USS John C. Stennis, and that the pair stayed in regular contact. The source, speaking on condition of anonymity, added that Francis has also known Loveless for many years, dating to his deployments in Asia as an intelligence officer aboard the aircraft carrier USS Kitty Hawk and as intelligence chief for the Navy's 7th Fleet, based in Japan.
While the investigation continues, the US Navy has twice taken space to replace Branch as head of its intelligence, but for some reasons has not gone through with it. In November 2014, it prepared a nomination package for Rear Adm. Elizabeth L. Train to take the position. Her nomination was postponed over a complaint, which has since been resolved, and was sent to the Senate Armed Services Committee in September.
Train's promotion is not expected until July, Pentagon officials told the Post. By that time Branch's service time would qualify him to retire as a vice-admiral rather than at the lower rank of a two-star admiral, with a smaller pension. The newspaper's source in the US Navy's leadership denied that this consideration was any factor in the situation.
You can share this story on social media: