Primary Day: Kasich, Rubio look to home states to shore up flailing campaigns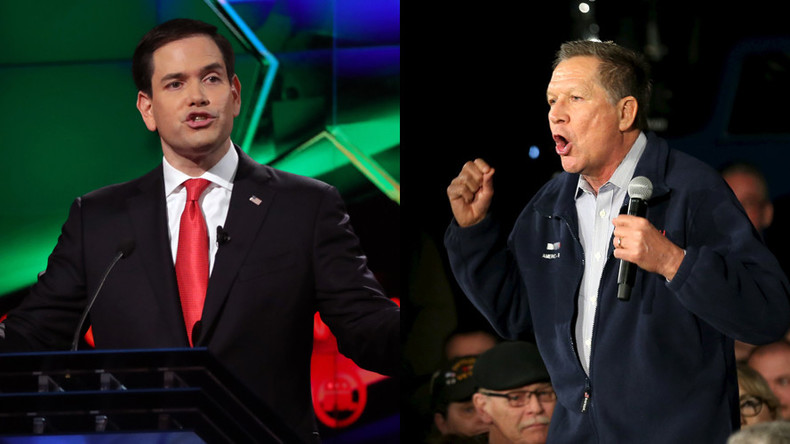 With five states and one US territory set to vote on Tuesday, the stakes are high for the hometown candidates in winner-takes-all Ohio and Florida. It could also be the last chance for the GOP establishment to take down frontrunner Donald Trump.
Ohio
In Governor John Kasich's home state of Ohio, he and Trump are tied with 38 percent of support each among likely Republican voters, followed by Texas Senator Ted Cruz at 16 percent, Florida Senator Marco Rubio at 3 percent, and 4 percent remain undecided, according to a Quinnipiac University poll published Monday. Yet Nate Silver's FiveThirtyEight blog gives Kasich an 87 percent chance of winning the primary, based on the analysis of all the latest polls, some of which give the governor up to a 6 percent lead in Ohio.
The winner of the Rust Belt state will gain all 66 of Ohio's delegates in the primary, which is open to both Republicans and independent voters.
On the Democratic side, former Secretary of State Hillary Clinton holds a commanding 14 point advantage over Vermont Senator Bernie Sanders, leading the way with 54 percent of likely Democratic voters compared to Sanders' 40 percent, according to a recent Monmouth University poll. Clinton has a 96 percent chance of winning Ohio, FiveThirtyEight found.
Florida
Things don't look as good for the hometown candidate in the Sunshine State. Rubio is banking on winning Florida as the last-gasp for his campaign, as well as promising to do whatever it takes to stop Trump from winning the GOP nomination. While Rubio threw his support behind Kasich in Ohio, the governor has declined to do the same for the senator in Florida.
Trump has doubled his lead over Rubio in recent days, with a 17 point advantage over the Florida senator, compared to an 8 point lead just last week, according to the Monmouth poll. Nearly half ‒ 44 percent ‒ of likely Republican voters in Florida support the real estate mogul, followed by Rubio with 27 percent (down from 30 percent last week), Cruz with 17 percent and Kasich with 9 percent. Trump is basically guaranteed to win all of Florida's 99 delegates in the closed primary, according to FiveThirtyEight, which gives him a 98 percent chance of victory.
Clinton is crushing Sanders in the latest Quinnipiac poll, leading 60 percent to 34 percent. She has a greater than 99 percent chance of beating the self-described democratic socialist in the Sunshine State, continuing Clinton's trend of winning southern states.
Illinois
In Illinois, delegates are awarded proportionally based on the results of the open primary. Trump and Cruz are statistically tied with the support of 38 percent and 34 percent of likely GOP voters, respectively, according to the latest CBS News/YouGov poll. Kasich comes in third with 16 percent, and Rubio brings up the rear with 11 percent. Trump has a 63 percent chance of winning Illinois, FiveThirtyEight reported.
In Illinois, Clinton and Sanders are in a statistical tie, with the former secretary of state garnering a likely 46 percent of Democratic primary voters to the Vermont senator's 48 percent, according to the CBS News/YouGov poll. However, FiveThirtyEight's weighted polling averages put the two candidates further apart, and predicts that Clinton has a 90 percent chance of winning Illinois.
Missouri
In Missouri's winner-take-all open primary, there has not been enough recent polling for FiveThirtyEight to predict who will take the state's 52 delegates. Based on the blog's weighted polling average, 36 percent of Show-Me State Republicans support Trump, 30 percent are for Cruz, and Rubio and Kasich are in a statistical tied with 9 percent.
On the Democratic side, the blog gives Clinton a 55 percent chance of winning the Missouri primary, but her odds of doing so have declined significantly since Sunday, when she had an 81 percent chance of victory. FiveThirtyEight's weighted polls have the two candidates in a statistical tie, with Clinton holding a 0.6 percentage-point lead.
North Carolina
Trump holds a commanding 12-point lead in North Carolina, according to FiveThirtyEight's polling average. He has an 89 percent chance of winning the Tarheel State, which allocates its delegates proportionally and allows both Republicans and independents to vote. Of likely primary voters, 42 percent support Trump, 30 percent support Cruz, 11 percent support Kasich and 8 percent support Rubio.
Clinton's lead on the Democratic side is even more commanding than Trump's, with the former secretary of state garnering support from 57 percent of likely Democratic primary voters, compared to Sanders' 35 percent, according to FiveThirtyEight's weighted polling average. Clinton has a greater than 99 percent chance of winning, the blog site found.
Northern Mariana Islands
The US territory will award all nine of its delegates to one candidate in this winner-take-all, closed caucus. Although no polling has been done on the islands, Trump is expected to claim a victory, with the commonwealth's governor endorsing the billionaire businessman hours after the Northern Marianas' GOP executive director joined Trump's campaign staff.
The Democrats on the islands held their caucus on Saturday, with Clinton winning four delegates, while Sanders captured two, the commonwealth's Democratic Party reported. Not counting the party's superdelegates ‒ of which the former secretary of state has a commanding 482-35 lead ‒ Clinton currently has 752 delegates to Sanders' 544. Superdelegates are not tied to the results of any primary or caucus, and may choose to change their candidate at any time.