'Harder every day': Rubio begins to backtrack on pledge to support Trump as GOP nominee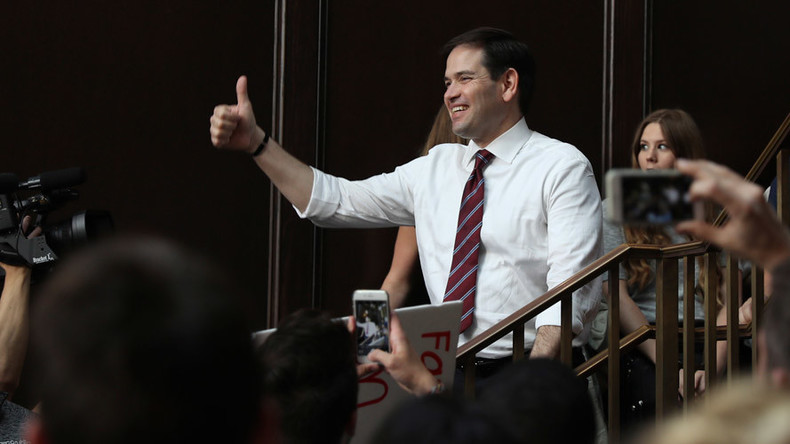 Marco Rubio appears to have changed his stance on supporting the Republican nominee if it happens to be Donald Trump, despite signing a GOP pledge to do so.
Rubio has made no effort to conceal his disdain for Trump. The Florida senator has labeled his fellow Republican nomination contender "vulgar," "a con artist," and a "liar," but despite those opinions, Marco had said if push came to shove, he would vote for whichever Republican won the nomination – including Donald.
"I'll support Donald if he's the Republican nominee, and let me tell you why. We must defeat Hillary Clinton,"said Rubio during March 3rd's Detroit debate.
However, Rubio's tone regarding the pledge has changed, as he admits it is becoming increasingly difficult to support Trump.
READ MORE: Battleground Ohio: Trump leads, Rubio backs Kasich, GOP ballot confusion
When asked on Saturday if he would still support the current Republican front-runner, Rubio said.
"I don't know. I mean, I already talked about the fact that I think Hillary Clinton would be terrible for this country. But the fact that you're even asking me that question, I still at this moment continue to intend to support the Republican nominee, but it's getting harder every day," reports the Huffington Post.
This is a shift from Rubio's previously unwavering commitment to support the Republican party's ultimate nominee, which he affirmed as recently as last week's GOP debate, where he vowed:
"I'll support the Republican nominee," and once again emphasized the importance of keeping either Democrat out of the White House, saying "one of them is a socialist" and "the other one is under FBI investigation."
You can share this story on social media: