Virginia firefighters suspended for transporting young girl to hospital - report
Published time: 7 Mar, 2016 19:40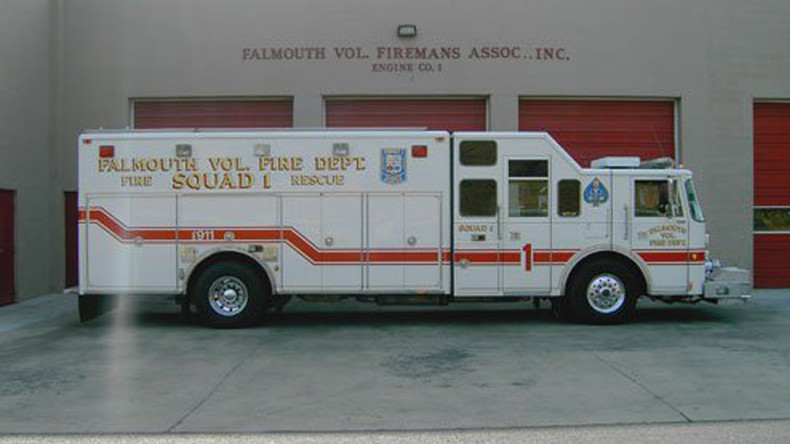 Two volunteer firefighters in Virginia have been suspended for rushing an 18-month-old girl to a nearby hospital during a medical emergency in their fire engine because it did not have the proper equipment or medications, according to a report.
Captain James Kelley and Sergeant Virgil Bloom, both with the Falmouth Volunteer Fire Department in Fredericksburg, Virginia, said they were the first emergency team to arrive on the scene near a McDonald's restaurant on February 27, according to WTTG.
Though she was breathing and had a pulse, the child was having a seizure and was eventually determined to have paralysis on one side of her body, Kelley said. Realizing the nearest medic was at least 10 minutes away, he ordered the fire engine's driver to head for Mary Washington Hospital.
"When I exited the fire truck, I was the officer in charge," Kelley said. "This gentleman handed me his child. At that point, she was completely limp and flaccid. I turned around and looked at my driver. Without any hesitation, I said, 'turn it around, we're going to the hospital.'"
The child was hooked up to the fire engine's oxygen output, Kelley said, adding that they were able to get the child to to the emergency room within 13 minutes.
The girl's father, who was in a car with her at the time of the emergency, said he dialed 911 upon realizing his daughter was having a seizure.
"As a parent, you feel extremely helpless to be unable to assist the most important person in the world (your child) during such a time of emergency," Brian Nunamaker told WTTG. "Worst case scenarios run through your head while you are hoping for the best. The eternity of waiting for help to arrive was surprisingly non-existent in this situation. I was surprised at how quickly help had arrived in the form of a fire truck."
Nunamaker said that despite the scare, his daughter is back to normal health today. He added that he was grateful for swift action taken by Kelley and company.
"My wife and I are extremely grateful for the assistance provided by the first responders, 911 operator, medical staff at Mary Washington and VCU [Virginia Commonwealth University Medical Center], and the passerby that stopped by to assist."
Kelley and Bloom were suspended by Stafford County for, essentially, breaking policy. They transferred someone in a medical emergency with a "non-transport unit" that does not contain restraints and other equipment common in medic units.
A spokesman with the Stafford County Fire and Rescue Department told WTTG the matter is under review.
"A potential regulatory compliance issue is under review by the Fire and Rescue Department and the Virginia Department of Health. Therefore, we are unable to comment on this issue."
Nunamaker said he and his wife "feel terrible" for the punishment meted out to Kelley and Bloom.
"They simply had the best interests for our daughter's care in mind," Nunamaker said. "We are extremely thankful they made the decisions they did, and that our daughter is back home with us doing well. The actions of these men represent a dedication to their mission, and a deep concern of doing what is best for the people they are serving. In our eyes, they are heroes."