Weight of responsibility: Firefighters cut 2,000 obese people from their homes in 3yrs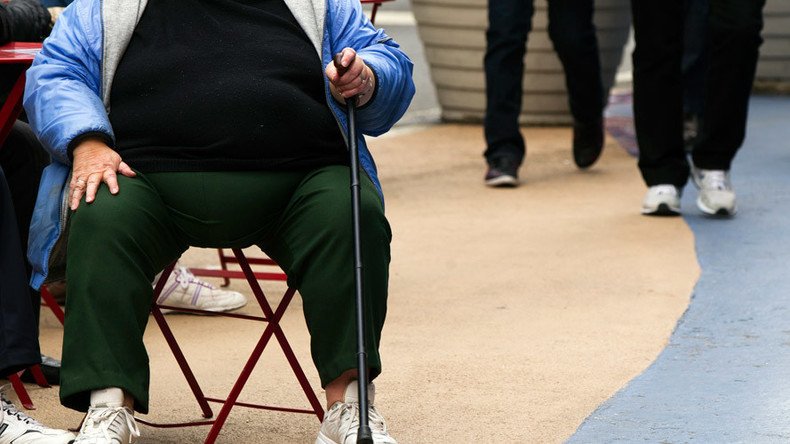 Firefighters and paramedics have saved the lives of nearly 2,000 obese people in the past three years by cutting them free from their homes, it has been revealed.
From January 2013 to May this year, 5,565 firefighters rescued obese people stuck in their homes, according to figures obtained by the Times.
Health professionals say the findings show there is a "hidden" obesity crisis in Britain which is putting the lives of others at risk.
The firefighters used crowbars, electric saws, animal harnesses, shovels and lifting and hydraulic equipment to save those trapped inside their homes. The cost of dispatching one fire engine is believed to be £400 (US$590).
These figures are likely to be much higher, as not all fire services provided the data requested for the same period, according to the Times.
Matt Wrack, Fire Brigades Union general secretary, said four or five firefighters often attend each incident because of the heavy lifting involved.
"We are talking about lifting people in quite difficult situations or positions," he told the Times.
Earlier this year, it took a seven-hour operation involving two cranes, two fire engines and seven police cars to free Britain's fattest woman, Georgia David, who weighs 55 stone, from her burning flat in Wales, according to the Mail Online.
The National Obesity Forum said the National Health Service (NHS) has to rely on the fire service because the "obese are getting obeser."
"[We are] deeply worried that in time a tragic fire and even loss of life will result from crews being diverted from their normal duties," a spokesperson told the Independent.
A quarter of adults in the UK are classed as obese, the second highest rate in Europe.
In October, it emerged that rising obesity levels had forced health bosses to spend £7 million adapting hospitals and buying specialist equipment to handle larger patients.
The London Fire Brigade has also been in crisis. In the past year, it has suffered the loss of 14 engines, 10 fire stations and around 500 jobs, according to the Socialist Worker.
Earlier this month, the Fire Brigades Union (FBU) said if the government continues to make cuts to the fire service, there will be more deaths in Britain.
Gareth Beeton, a London regional official from the FBU, told the paper: "The further reductions in fire cover would equate to around another 200 jobs. This will drastically reduce the fire cover to Londoners, and also the safety of firefighters."
You can share this story on social media: