Chicago has deadliest start to a year in nearly two decades
Published time: 1 Mar, 2016 18:44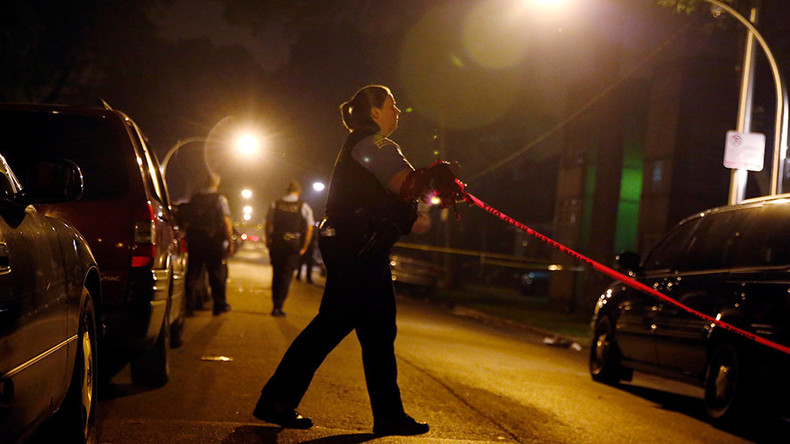 More than 100 people died violently in Chicago to start 2016, making it the deadliest kick off to a year since the late 1990s.
The city's 102 homicides through the end of February marks the first time Illinois' biggest city has had more than 100 homicides in the first two months of a year since 1997, according to the Chicago Sun-Times. Last year, it took until April to hit the century mark.
Meanwhile, there were 471 shooting victims in the city from January 1 through March 1, with 45 homicides in February alone, the Chicago Tribune reported. The paper's shooting map shows most gun violence occurred in the western and southern sections of the city. It includes police shooting deaths and deaths considered justifiable by law.
The Chicago Police Department tallied 43 murders, 165 shootings and 187 shooting victims in February, according to WLS. The murder rate in 2016 marks the worst in the city in nearly two decades.
"While the Chicago Police Department is taking action to keep our communities safe, gun violence driven primarily by gang conflicts remained at an unacceptable level in February," Anthony Guglielmi, the Chicago PD's director of communications and affairs, said in a statement. "The level of violence is unacceptable and CPD continues to aggressively target those responsible, especially in neighborhoods where gang activity is most active."
Chicago police have confiscated at least 110 fewer illegal firearms than they did in the same period last year. Arrests for murder are up from 2015 by more than 40 percent, police said.
"We will continue to work tirelessly on ways to stop violence, and restore accountability and trust in communities throughout the city," said Interim Chicago Police Superintendent John Escalante, according to AP.
As murders mounted in January, Chicago police blamed an "ACLU effect" on the spike in violent crime, referring to a pact made between the Chicago PD and the Illinois chapter of the American Civil Liberties Union that went into effect at the beginning of 2016. The agreement requires officers to fill out a two-page report detailing any stops involving citizens, from traffic violations to investigative searches. The previous procedure was limited to a one-page "contact card" that officers filled out.
The result of the additional paperwork and attention paid to street police stops has been a massive drop in the number of stops, the Sun Times reported.
ACLU-Illinois contested that claim.

"There is no discernible link between the rate of invasive street stops and searches by police and the level of violence… when such stops dramatically decreased in other cities, like New York City, we saw no such rise in crime. There simply is not any evidence of this so-called 'effect,'" Karen Sheley, police practices project director at the ACLU, said in a statement.
"Chicago police are under increasing scrutiny for use of force and a culture of silence," she added. "It is wrong to suggest that an effort to advance constitutional policing, transparency and oversight of police is the cause of a spike in violence over a relatively short period of time."