Chicago granny faces 6 year mandatory sentence for kicking officer in shin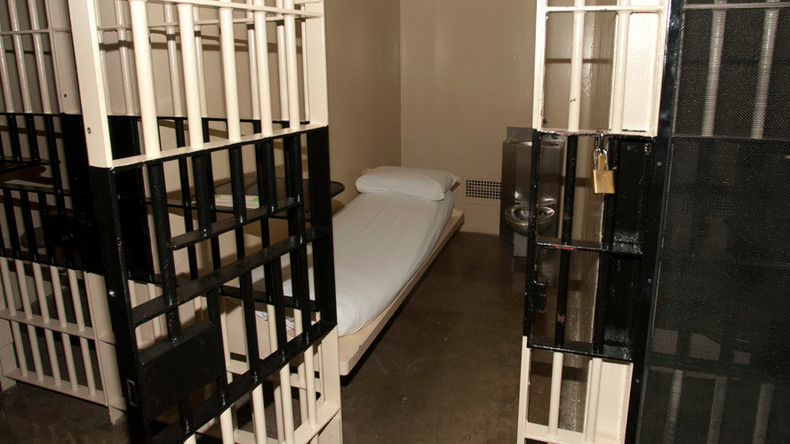 After kicking a deputy in the shin during a scuffle at her son's trial, a Chicago woman is facing a trial of her own. Due to mandatory minimum sentencing laws, she may end up behind bars for at least six years and lose her social benefits.
Tina Hunt, a 49-year-old grandmother, attended her son's court appearance in November 2013, only to get in a quarrel with sheriff's deputies. She was removed from the court and taken into custody, where one deputy said that she kicked him in the shin during the struggle, the Chicago Tribune reports.
READ MORE: Human Rights Watch report finds US violations, signs of reform in criminal justice
Because Hunt was convicted for two violent crimes in previous decades, "three strikes" mandatory minimum sentencing laws in effect in Illinois dictate she must receive no less than six years in prison if convicted – even though the deputy testified that the kick did not hurt and left no marks. Here trial is set for Wednesday.
"It hurts bad," Hunt told the Tribune reporter with tears streaming down her face. "If I go to the penitentiary for six years, I'm going to lose everything I have, my Section 8 [housing], my [government disability] check, my freedom."
Hunt denies that she ever kicked the deputy in the shin, according to the Tribune.
The grandmother, who has been diagnosed with bipolar disorder, does have an extensive criminal past. Of her six felony convictions, the most recent was in 2003, when she was arrested for drug possession and served nearly a year in prison.
The violent crime convictions that are now coming back to haunt her occurred in 1987 and 1997, for armed robbery and robbery respectively. While in prison for the former offense, Hunt was convicted twice of battery to correctional officers, which resulted in her serving her entire six-year sentence.
Because kicking the deputy in the shin resulted in her third Class 2 felony, the judge last year had no recourse but to deem Hunt a "Class X" offender – the most serious criminal classification in Illinois, short of first degree murder. Hunt could be given anywhere between six and 30 years in prison, but could be released after serving about half of the sentence on good behavior.
This comes at a time when sentencing reform is at the forefront of the national conscience. In October, Department of Justice announced that it was preparing to release roughly 6,000 prisoners, in response to new guidelines issued by the US Sentencing Commission that lowered minimum federal sentences for drug crimes.
READ MORE: 6,000 inmates to be released under new federal sentencing guidelines
In December, President Barack Obama granted clemency to 95 inmates in a single day, all but two of whom were convicted for drug crimes. In the two non-drug-related cases, a Texas woman will serve out half of her 48-year mandatory minimum sentence for armed robbery, while a Georgia man will only spend nine years of a 15-year sentence for possessing a firearm with a prior felony.
You can share this story on social media: