#Not1More: Activists block Chicago traffic to protest deportations
Published time: 16 Feb, 2016 16:21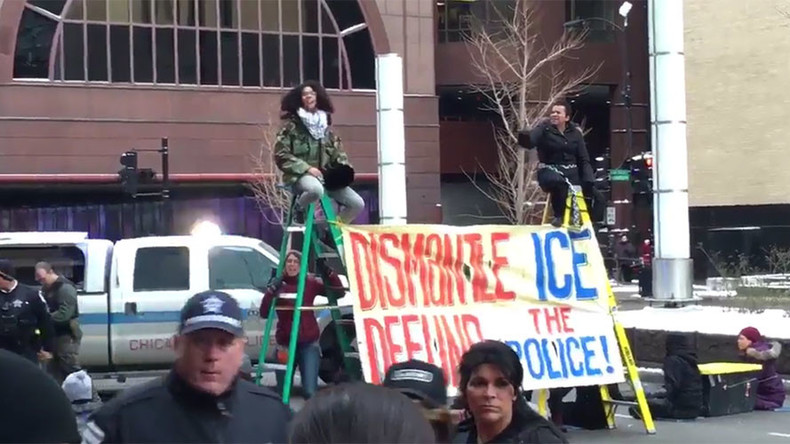 Calling for an end to the mass deportations of undocumented immigrants that began last month, immigration and human rights activists have blocked traffic outside a US Immigration and Customs Enforcement office in Chicago.
Beginning at around 8:00 am CT, protesters shut down part of Congress Parkway at LaSalle Street in downtown Chicago. The location is just outside an Immigration and Customs Enforcement (ICE) office, according to WBBM. The demonstrators erected two ladders in the street to hang a banner that read "Dismantle ICE, Defund The Police!"
The group Organized Communities Against Deportations assisted in organizing the protest, WBBM reported. OCAD is calling for an end to all ICE deportation efforts and immigration raids, the latest round of which began at the beginning of the year. Late last week, OCAD estimated that at least 121 people have been "swept up" in ICE's latest deportation effort.
Chicago police arrived on the scene, cutting and dismantling chains and lock boxes used to secure protesters to ladders and to one another, OCAD reported. All protesters "engaging in the blockade were arrested," according to the group We Charge Genocide. The Chicago Tribune reported"about 12 arrests."
There are were "no struggles" between demonstrators and police, the Tribune reported. Traffic lanes were reopened by 9:25 am CT.
The federal deportation effort concerns nationwide round-ups of people who have already been ordered to leave the US by an immigration judge. More than 100,000 families have crossed the southwestern border since the beginning of 2015, according to ICE. Following the raids, adults and children will be detained wherever they can be found and immediately deported, the agency has said.
Advocates for immigrant refugees have heaped criticism on the Obama administration for the renewed deportation policy, which, they say, disproportionately targets families who fled their homes in Central America amid fierce violence and economic hardship.
Deportations during President Barack Obama's first term hit new highs, though deportations have declined in recent years. The Obama administration has defended its recent raids, saying that is following guidelines the US Department of Homeland Security adopted in November of 2014.