NYPD breaks up pro-immigration protest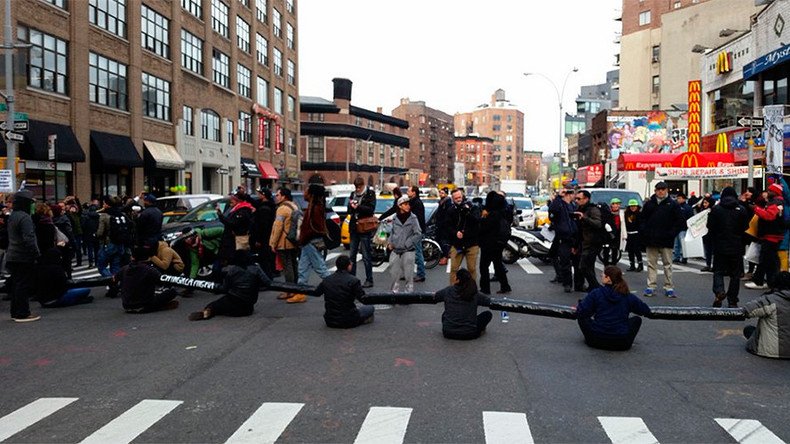 Activists opposed to the US authorities rounding up and deporting immigrants have organized a protest outside the Immigration Court in New York City, bringing a busy district of lower Manhattan to a standstill.
Dozens of protesters blocked the intersection of Varick and Houston Streets in lower Manhattan, where the Immigration Court for New York City is located. They are carrying signs protesting the recent raids by Immigration and Customs Enforcement (ICE), rounding up over a hundred people who were in the US illegally.
The New York Police Department has attempted to clear the street. Several protesters were arrested.
The activists demanded an end to ICE raids and that New York City adopt a 'sanctuary city' policy of refusing to enforce federal immigration laws.
Some of the signs at the protest proclaimed: "Close prisons – open borders", "No human is illegal", "Not one more deportation: cut the fence." There were also several signs with vulgar messages aimed at the immigration authorities, in English and Spanish.
A number of activists locked themselves together with cement-filled "sleeves" to create road blocks.
Police have resorted to cutting up the "sleeves" in order to separate the protesters.
Last weekend, agents of ICE raided a number of homes in Georgia, Texas and North Carolina, detaining 121 individuals scheduled for deportation.
Several Democratic lawmakers have condemned the raids, conducted by the Obama administration under guidelines established in 2014. Senator Bob Menendez (D-New Jersey) said they would have a "chilling effect" on immigrant communities, while Representative Luis Gutiérrez (D-Illinois) called them "a cruel reminder of a discredited policy."
Donald Trump, front-runner for the 2016 Republican presidential nomination, has called for stricter immigration controls and advocated a wall along the border with Mexico.
You can share this story on social media: