Florida man arrested for vandalizing mosque with machete, leaving bacon at the door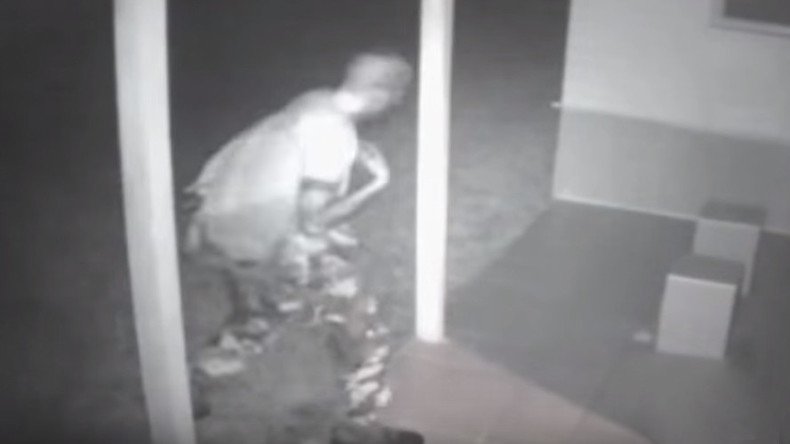 Police have arrested a man accused of breaking into a Central Florida mosque with a machete and using the weapon to break lights, windows, cameras, and other items on New Year's Day.
Michael Scott Wolfe, 35, was arrested by Titusville police after evidence indicated he illegally entered the Islamic Society of Central Florida Masjid Al-Munin around 11:00pm ET on January 1. Once inside, the suspect smashed his way through with the machete, police said, according to Florida Today. A video of the break-in shows that the suspect left bacon in front of the mosque before leaving. The Quran forbids Muslims to consume pork products.
Wolfe has been charged with criminal mischief to a mosque, which is a third-degree felony. He is being held at the Brevard County Jail on $2,000 bail and he will appear before a judge on Tuesday.
Muhammad Musri of the Islamic Society of Central Brevard oversees 10 mosques, including the Titusville location, with more than 40,000 Muslim followers in Central Florida.
"You can't help but feel this is a hateful act (because of) all of the negative media, the politicians who want to ban Muslims, close mosques," he said. "Messages like that motivate people who have an illness in their heart."
Musri said the act was not at all typical of the mosque's relationship with locals.
"We've been in this community for so many years. This is a great community and this act is not typical of the good people or the city," he said. "So I am hopeful. Over 40 years that we've been here, we've never seen anything like this."
Musri said that while the physical damage to the mosque can be repaired, "the psychological damage will be lasting."
It is yet unclear whether Wolfe will face hate crime charges, which would mean a stiffer penalty if a conviction is reached. Musri said he was in touch with the FBI, which investigates such crimes. The fact that bacon was left indicates bias, according to the Council on American Islamic-Relations, a leading Muslim advocacy group in the US.
"People are afraid to take their children back to the mosque...a machete was used," Rasha Mubarak, the Orlando regional coordinator for CAIR, told Florida Today. "They know we don't consume pork. This is something that those who are Islamaphobic tend to bring up or use."
In early December, a severed pig's head was tossed at the front door of a mosque in Philadelphia. Last week, raw bacon was found at a Las Vegas mosque.
CAIR says more than 70 acts or threats of vandalism against US mosques have occurred since 2009. There has been an uptick in vandalism and violence targeting Muslims in the US that corresponds with recent attacks perpetrated by Islamic jihadis in Paris and San Bernardino, California.
Mainstream US politicians and presidential candidates such as Donald Trump have also stoked blanket animosity towards Islam. In recent months, Trump, currently the leading candidate for the Republican Party's presidential nomination, has called for a database of Muslims in the US, increased surveillance and overall scrutiny of mosques, and an outright ban on Muslims entering the country.
You can share this story on social media: