Karma strikes again: Pharma company with ties to Martin Shkreli files for bankruptcy
Published time: 30 Dec, 2015 18:54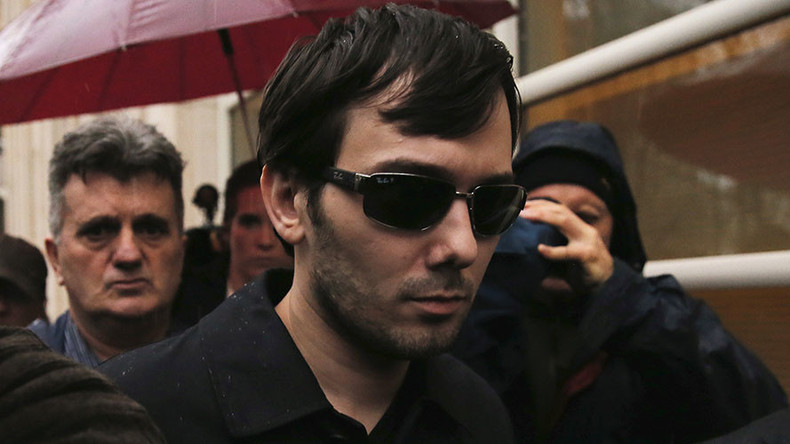 Martin Shkreli, the price-gouging pharmaceuticals CEO everyone loves to hate, may be the opposite of King Midas: Everything he touches shrivels and dies. A drugmaker that Shkreli recently took over has now filed for bankruptcy.
Shkreli was elected chairman of the board and chief executive officer of KaloBios Pharmaceuticals, which produces benzidazole, in mid-November. Three weeks later, he bought a majority share in the company, allowing him to apply for exclusive selling rights to the drug, used to treat Chagas disease, a parasitic disease that can lead to lethal heart problems. It is common in South America.
That exclusive, five-year right set up Shkreli to do what he became notorious for: raise the price of the medication exponentially. Before the "boy wonder" CEO got his hands on KaloBios, the company sold a two-month treatment of benzidazole for $50-100. Shkreli, deemed "the most hated man in America," hoped to cash in on the drug the same way he did with Daraprim, a medication used by HIV and cancer patients, by jacking up the price from $13.50 to $700 a pill when he acquired those rights earlier this year.
Instead, it all began falling apart, both for Shkreli and for KaloBios.
The pharmaceutical company filed for Chapter 11 bankruptcy protection on Tuesday, two weeks after Shkreli was arrested and charged with securities fraud for his time as a hedge fund manager. KaloBios listed its assets and liabilities in the range of $1 million to $10 million.
The move comes shortly after the company appealed a decision by the Nasdaq stock market to delist its shares, Bloomberg Business reported. Trading of KaloBios stock was halted upon Shkreli's arrest, both because of his detention and because of the company's failure to comply with quarterly financial reporting requirements. The stock price plummeted 53 percent in early trading shortly after the FBI took the 32-year-old CEO into custody.
Shkreli was brought in "to ensure the Company's continued operations," KaloBios said in a statement when he was appointed CEO.
The company plans to use the bankruptcy period to "evaluate its strategic alternatives" and to develop a restructuring plan, according to documents filed with the US bankruptcy court for the District of Delaware.
KaloBios is not the only company in turmoil thanks to having Shkreli at its helm. Turing Pharmaceuticals named Ron Tilles, the chairman of its board of directors, as the interim CEO after Shkreli resigned from the position on December 19, two days after his arrest. KaleBios had fired Shkreli after the charges were filed.
The securities fraud charges are unrelated to either KaloBios or Turing, but rather to his time at Retrophin, a pharma company he founded in 2011, and MSMB Funds, a hedge fund he had previously started. US Attorney Robert Capers, based on an investigation by the Securities and Exchange Commission, is accusing Shkreli of using Retrophin "as his personal piggy bank" by lying to investors about the success of MSMB and using money from Retrophin to cover up his losses.