Bernie Sanders rejects donation from pharma corp that hiked AIDS drug price by 5,000%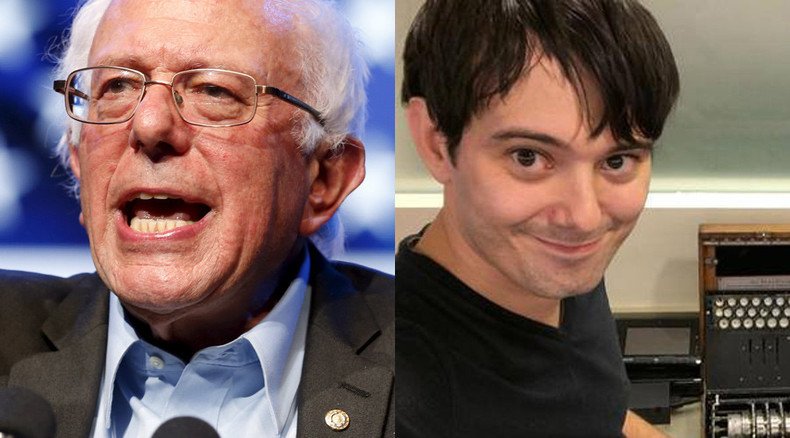 Democratic presidential candidate Bernie Sanders has rejected a campaign donation from Martin Shkreli, head of Turing Pharmaceuticals, who recently sparked a furor after increasing the price of a drug for AIDS and cancer patients by nearly 5,000 percent.
Shkreli has repeatedly announced on Twitter that he plans to donate to Sanders campaign. On Thursday he confirmed to Statnews.com that he had granted $2,700 (the maximum individual donation) to the independent Vermont Senator September 28.
Sanders has repeatedly declared that he doesn't accept funding of this kind and that his campaign is supported mostly by small-dollar donations made online.
READ MORE: Bernie Sanders raises $26 million, closes gap with Hillary Clinton
At first the 2016 contender kept the money. Shkreli said he received a letter where Sanders thanked him for the donation.
"Our political system is corrupt. Big Money controls much of what happens. Together, you and I are changing that. Thank you again for your support. Best, Bernie," said the letter as cited by Statnews.com.
However, on Thursday the situation changed after Sanders' campaign spokesman Michael Briggs announced that the senator wouldn't keep the donation and instead the whole sum would be sent to Whitman-Walker health clinic in Washington, DC.
READ MORE: Company that hiked AIDS drug price by 5,000% now targeted by antitrust probe
The decision to reject the donation coincided with the recent move of Turing Pharmaceuticals to increase the price of a drug used by AIDS and cancer patients by more than 50 times.
Upon acquiring Daraprim, a 62-year-old drug no longer under patent protection, Turing raised the price from $13.50 per pill all the way up to $750, leading to widespread outrage and igniting a debate about pharmaceutical industry practices.
After learning that the donation was rejected, Shkreli evidently became angry. He had also hoped for a meeting with Sanders which was eventually canceled.
"I think it's cheap to use one person's action as a platform without kind of talking to that person…He'll take my money, but he won't engage with me for five minutes to understand this issue better," he said.
READ MORE: Bernie Sanders unveils bill proposing major pro-union labor reforms
Shkreli said he had wanted to talk to the presidential candidate about drug prices.
"Right now the rule of law in the United States is that drug companies can price their products wherever they see fit, not wherever he sees fit," Shkreli said. "If the rule changes by congressional vote, then you know, I'll adapt to the rules."
Sanders has repeatedly slammed "the greed" of pharmaceutical industry, calling it a "public health hazard" for the US and proposing to import cheaper prescription drugs from Canada. He also called upon Medicare, the US national social insurance program, to introduce lower drug prices.
The main rival for Hillary Clinton in 2016 presidential race, Sanders is also known for criticizing such issues as income inequality, poor healthcare, climate change and mass surveillance. The presidential candidate was a long-tome opponent of US campaign in Iraq and US foreign policy in general.
You can share this story on social media: