Bernie Sanders unveils bill proposing major pro-union labor reforms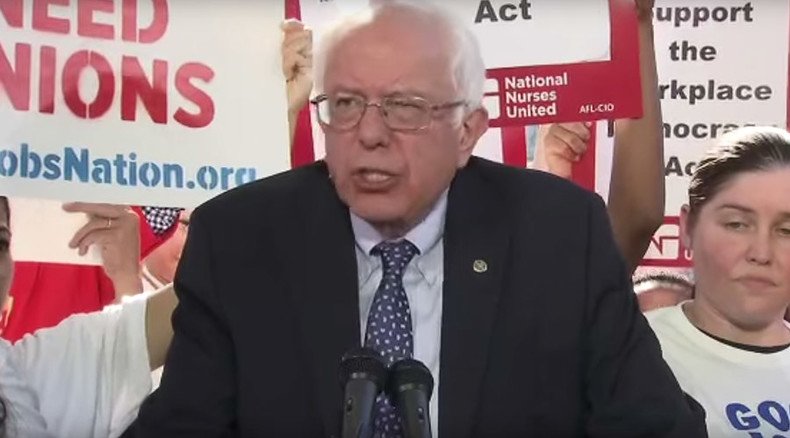 Democratic presidential candidate Bernie Sanders has proposed legislation that would make it easier for workers to join unions and collectively bargain for higher wages and better benefits.
The independent Vermont Senator said that if an employee currently tries to organize a union, they have a one in five chance of being fired.
Titled the Workplace Democracy Act, the bill was announced on Capitol Hill on Tuesday and has the backing of eight Democratic senator co-sponsors. US Representative Mark Pocan (D-Wisconsin) has introduced the House version.
"Millions of Americans who want to join unions are unable to do so because of the coercive and often illegal behavior of their employers," Sanders said, according to a press release. "The benefits of joining a union are clear: higher wages, better benefits and a more secure retirement. If we are serious about reducing income and wealth inequality and rebuilding the middle class, we have got to substantially increase the number of union jobs in this country."
The Workplace Democracy Act would make it easier for workers to form unions if a majority of them sign valid authorization cards and the National Labor Relations Board verifies the majority. Once the union has been certified, an employer would be tasked with negotiating a first contract. If there are delays, negotiations would move to mediation and then on to arbitration.
Union workers' wages are 27 percent higher than those of non-union workers, according to the Bureau of Labor Statistics. Over three-quarters of unionized workers receive health insurance, have a guaranteed defined-benefit pension plan, and receive paid sick leave.
However, Sanders said corporate profits are at an all-time high while wages as a percentage of the economy are near an all-time low.
In a video clip, Sanders said that the middle class in the US is disappearing and that there are concrete reasons why this is happening. Since 2001, he said, the US has lost some "60,000 factories and millions of good paying jobs." Much of this has been the result of "disastrous trade agreements like NAFTA, CAFTA, and NPTR with China," which allowed corporate America to shut down and move abroad, he said. He also fears similar effects from the recently finalized Trans-Pacific Partnership.
Critics of the bill suggest Sanders is merely using it to court organized labor support for his presidential bid. However, Sanders points out that his staunch support for unions predates the currently proposed bill.
"We have a number of locals, we have the national nurses union and we are going to have a number of more unions on our side, no doubt about," the Vermont Senator told reporters, according to the Guardian.
Critics also say there is little chance of the bill passing in the current Republican-controlled Congress.
Joining Sanders and Pocan at the news conference outside the Capitol were workers who have faced retaliation for trying to organize their fellow workers.
"Working moms shouldn't have to strike and face threats just to join a union," said Kellie Duckett, a federal contract worker at the US Capitol, according to the Guardian. "We should be able sign up for the union just like we sign up for the PTA."
According to the Hill, the legislation mirrors a similar workers' rights bill introduced last month by Senator Patty Murray (D-Washington) and Representative Bobby Scott (D-Virginia), which would increase penalties for companies that retaliate against workers for organizing.
LISTEN MORE:
You can share this story on social media: