Price-jacking CEO Martin Shkreli resigns from Turing in wake of fraud charges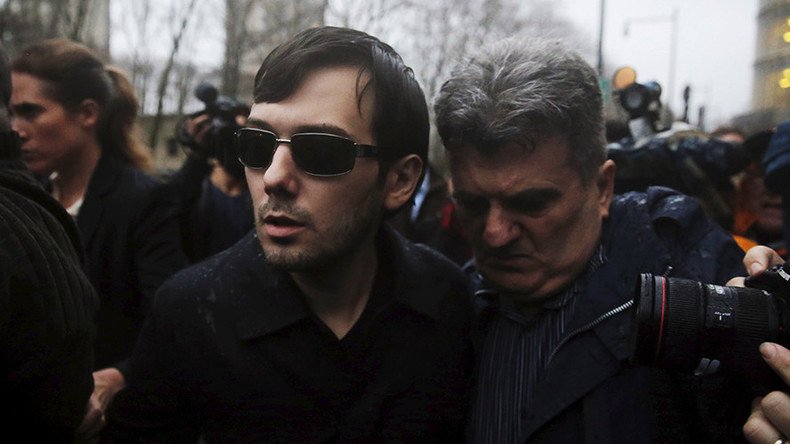 Martin Shkreli, a businessman best known for raising the price of an anti-parasitic drug by over 5,000 percent, has stepped down from his position at Turing Pharmaceuticals. He was arrested for securities fraud on Tuesday for previous work at his hedge fund.
If convicted, the 32-year-old faces up to 20 years in prison.
Ron Tilles, the chairman of Turing's board of directors, has been named the interim chief executive officer. Turing announced in a press release that the company wished Shkreli the best of luck in all future endeavors. Turing had already issued a press release earlier on Friday pledging that "no patient needing Daraphrim will be denied access."
As Turing's CEO, Shkreli gained notoriety for jacking up the price of Daraprim, a drug used to treat parasitic infections resulting from toxoplasmoisis, by more than 50 times. Stemming from contact with toxoplasma gondii parasite, one of the world's most common parasites, the disease poses a risk to people with compromised immune systems, such as AIDS patients, malaria sufferers, and people undergoing chemotherapy.
Martin Shkreli probably needs a Xanax right now. I'm willing to sell him one for $500,000.

— Tom Cowell (@MrTomCowell) December 17, 2015
Daraprim's price increase scandal was not Shkreli's first time facing controversy. In 2011, he started Retrophin and acquired old drugs in order to raise their price. However, Shkreli was fired by Retrophin's board a year later. This week, he stands accused of using the company "as his personal piggy bank."
While running Retrophin, Shkreli was also the head of the MSMB hedge fund. Tuesday's charges stem from him allegedly lying to investors about the success of MSMB and using money from Retrophin to cover up his losses. In December 2010, Shkreli told an investor that "the firm had $35 million in assets under management. In fact, it had $700," the New York Times reported.
Described by federal officials as running a "quasi-Ponze scheme," Shkreli was indicted on seven charges, including securities fraud conspiracy, security fraud, and wire fraud conspiracy. Also facing a conspiracy charge is Evan Greeble, 42, who is accused of assisting Shkreli in his fraudulent activities. Greeble is a New York City lawyer who was working with Retrophin at the time.
Released on $5 million bail, Shkreli also faces a $65 million lawsuit from Retrophin. Speaking on behalf of Shkreli, a spokesman was confident that he would be cleared of all charges.
Shkreli has become infamous in the US, and even abroad, for his role at pharmaceutical companies. One investment that Shkreli has managed to hold on to is a one-of-a-kind Wu-Tang Clan album – Once Upon a Time in Shaolin. After paying $2 million for the sole CD, Shkreli was recorded earlier this week taunting Wu-Tang fans who asked to listen to it.
Wu-Tang's RZA emailed Businessweek to distance the Clan from Shkreli, saying "The sale of Once Upon a Time in Shaolin was agreed upon in May, well before Martin Skhreli's [sic] business practices came to lift. We decided to give a significant portion of the proceeds to charity."
#Breaking no seizure warrant at the arrest of Martin Shkreli today, which means we didn't seize the Wu-Tang Clan album.

— FBI New York (@NewYorkFBI) December 17, 2015
You can share this story on social media: