'Most hated man in America' arrested for securities fraud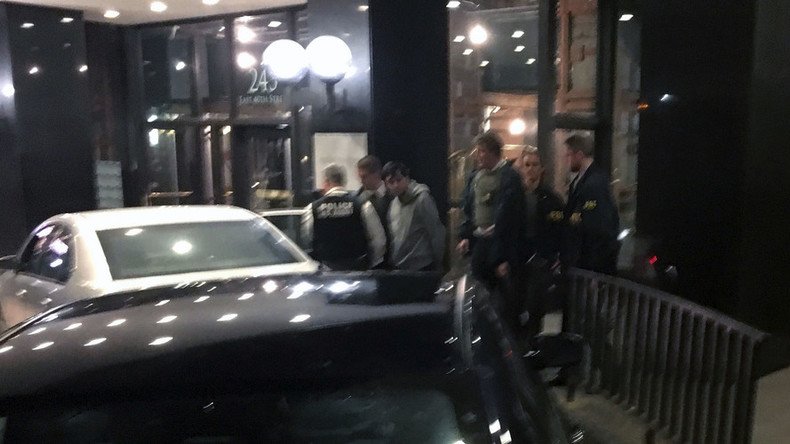 Martin Shkreli ‒ the pharmaceutical CEO infamous for jacking up drug prices 5,500 percent ‒ has been charged with securities fraud. The arrest is unrelated to his raising the price of life-saving pills exponentially, but to his time at a hedge fund.
The FBI arrested the 32-year-old entrepreneur in his Manhattan home early Thursday morning. Prosecutors accused him of illegally taking stock from Retrophin, Inc. to pay off his personal debts from unrelated business dealings as a hedge fund manager for MSMB Funds. Shkreli started the biotechnology firm in 2011, but was ousted from the company in September 2014 and sued by its board of directors. He started the
Currently the chief of Turing Pharmaceuticals, Shkreli has been referred to as "the most hated man in America" and a "symbol of defiant greed" after his company purchased the patent for Daraprim , a 60-year-old drug that can be essential to certain AIDS and cancer treatments, and raising its price from $13.50 to $750 in just over a month.
Retrophin sued Shkreli in federal court for $65 million, accusing him of misusing the company's assets, including its stocks and cash, "to enrich himself, and to pay off claims of MSMB investors (who he had defrauded)," the lawsuit said. In 2012, the Securities and Exchange Commission opened an investigation into the hedge fund and into Shkreli.
The lawsuit and the securities fraud investigation are related, with the SEC accusing Shkreli of defrauding MSMB by misappropriating funds from MSMB, making misrepresentations to investors and the executing broker, and "fraudulently induced Retrophin to issue stock and pay cash to disgruntled hedge fund investors," the criminal complaint said.
"Over a five-year period, Shkreli is alleged to have perpetrated a series of frauds on investors in his hedge funds and Retrophin's shareholders in order to cover up his poor trading decisions," Andrew J. Ceresney, Director of the SEC's Division of Enforcement, said in a statement.
The SEC accused Shkreli of misleading investors and prospective investors in MSMB Capital Management about the fund's size and performance, claiming in July 2010 to have "returned +35.77 percent since inception on 11/1/2009," when it actually generated losses of about 18 percent. In December 2010, Shkreli "falsely stated" that the fund had $35 million in assets under management when it actually had less than $1,000 in assets in its bank and brokerage accounts.
In February 2011, MSMB's accounts had a negative value, so Shkreli then took a short position on a pharmaceutical stock in MSMB Capital Management's account, which then resulted in losses of more than $7 million to the executing broker who had to cover the short position in the open market, the SEC claimed. He then misappropriated $900,000 from MSMB Healthcare in 2013 to settle claims over the fund's inability to settle that sizeable short sale.
From September 2013 to March 2014, Shkreli, with assistance from Evan Greebel, Retrophin's outside counsel and corporate secretary, "fraudulently induced Retrophin to issue stock and make cash payments to certain disgruntled investors in Shkreli's hedge funds who were threatening legal action" by "misleadingly stating the payments were for consulting services," the SEC statement said.
Federal authorities also accuse Shkreli of using $120,000 from MSMB to unlawfully pay for food, clothing, medical expenses, clothing, office rent and cash withdrawals between October 2009 and July 2011.
The FBI arrested Greebel early Thursday as well. The 42-year-old lawyer is accused of aiding and abetting Shkreli's "fraudulent conduct," the SEC complaint said.
"Greebel's alleged role in facilitating Shkreli's fraud on Retrophin's shareholders not only crossed legal boundaries but also grossly violated both his professional and ethical obligations," Ceresney said.
Shkreli's legal troubles don't end with the federal charges and the Retrophin lawsuit, however. Turing Pharmaceuticals is facing an antitrust probe by New York Attorney General Eric Schneiderman. The state's top lawyer is concerned that Turing might be trying to prevent generic versions of Daraprim from being produce by restricting distribution of the drug specifically so that generic drug manufacturers can't get the samples they need to create their own version.
Shkreli has previously denied any wrongdoing with regards to both his time at Retrophin and MSMB and his price-gouging of out-of-patent drugs.
Social media has rejoiced at the news of his arrest.
Minutes after the pharmaceuticals CEO's arrest on charges of securities fraud, his attorney announced that he was hiking his rate from twelve hundred dollars an hour to sixty thousand.

Posted by Andy Borowitz on Thursday, December 17, 2015
Along with being reviled for his questionable business moves, he is also despised for his cavalier attitude about people's lives.
Has anyone commented yet that Martin Shkreli looks like Tobey Maguire's #SpiderMan when he turned evil after getting the black costume?

— Sean Greson (@Shmingers) December 17, 2015
"I probably would have raised the price [of Daraprim] higher," Shkreli said at a Forbes summit in New York earlier in December, adding: "My investors expect me to maximize profits."
He did not win any fans after paying a reported $2 million for the only copy of the Wu-Tang Clan album 'Once Upon a Time in Shaolin'. The iconic rap group, upon learning of Shkreli's business practices "decided to give a significant portion of the proceeds to charity," Robert Diggs (better known as RZA), the Clan's producer and de facto leader, said in a statement.
You can share this story on social media: