CEO who jacked up price of AIDS pill to $750 faces major backlash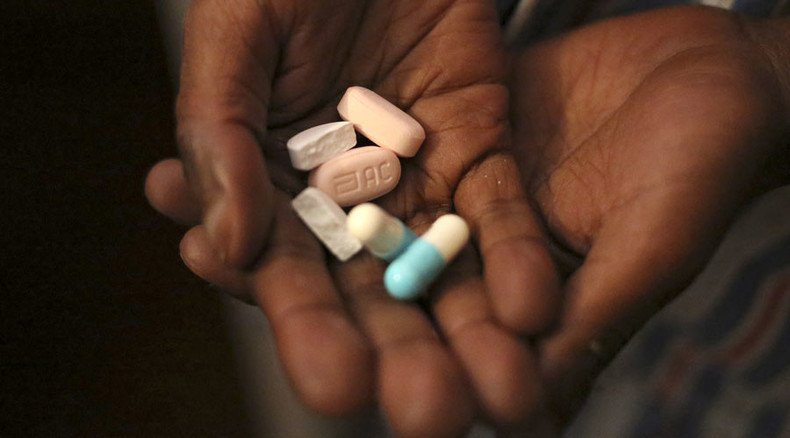 The media and internet may have found the perfect mustache-twirling boogeyman: 32-year-old pharmaceuticals CEO Martin Shkreli, whose company bought an AIDS drug and subsequently jacked up its price by over 5,000 percent.
Daraprim has been on the market for 62 years and is an essential drug for fighting a complication known as toxoplasmosis that comes with diseases like AIDS and cancer. It went for $13.50 a pill, meaning that people could treat their deadly illness for under a thousand dollars in total – until now.
Shkreli's company, Turing Pharmaceuticals, bought the drug last month and immediately jacked up the price to $750 dollars per pill, even though it costs only about a dollar to produce.
READ MORE: Pharma firm hikes life-saving drug price by 5,500%
The backlash against the Shkreli first came from members of the medical community specializing in infectious diseases.
"What is it that they are doing differently that has led to this dramatic increase?" the chief of the infectious diseases division at the Icahn School of Medicine at Mount Sinai, Dr. Judith Aberg, told the New York Times.
The media got on board shortly thereafter, with the Daily Beast dubbing Shkreli "big pharma's biggest a**hole."
Even Democratic presidential frontrunner Hillary Clinton mentioned Daraprim's sharp price jump at a rally, vowing to fight such moves by drug companies if elected.
This might be a deft political move, since Americans pay about twice as much for life-saving cancer medications as Europeans, according to Reuters.
Clinton's main rival, Bernie Sanders, concurred, saying in a letter to the CEO that the price hike was only "the latest in a long list of skyrocketing price increases for certain critical medications."

The CEO's own reaction on social media might not have done him any favors, either.


Public scrutiny didn't stop Shkreli from battling his critics on Twitter, though. When John Carroll, the editor of Fierce Biotech, asked him to explain the gigantic price hike, a heated exchanged ensued. Before making his Twitter account private, the CEO called Carroll a "moron" and a "bad journalist who doesn't check facts or think logically."

This isn't the first time that the former hedge fund manager found himself in hot water. In 2014, during Shkreli's tenure as the CEO of another company, Retrophin, it purchased a kidney medication called Thiola and increased the per-pill cost of the medication from $1.50 to $30.00. It treated cystinuria, a chronic disease which afflicts about 20,000 patients in the United States alone.
As with Daraprim, there weren't alternatives to Thiola for sufferers of cystinuria.
Retrophin announced last month that it was suing Shkreli for $65 million in damages, alleging that its former CEO misused company funds to settle legal battles against hedge funds that he ran. Bloomberg Business reported at the time that he was "the target of investor lawsuits over his trading in Retrophin stock, and the company has said it received a subpoena tied to a probe by federal prosecutors in Brooklyn, New York."
Shrkelin called the claim "preposterous" and threatened to countersue for $150 million.
The public saw a markedly friendlier face when Shkreli appeared on several TV networks. On Bloomberg Business he defended himself, explaining that the drug was unprofitable at the old price, and that Turing Pharmaceuticals would be the first to focus on the product.
He claimed that the companies that previously had rights to produce the drug weren't providing important dedicated patient services, and that Turing will. "Rare diseases are not like buying Advil or something. This is a very, very tough disease. It requires a lot of attention and focus. The drug company has to partner with patients and distributors that it's a very cared for community, and that costs a lot of money," Shkreli said.
He went on to try to dispel fears that the increased cost of the drug will adversely affect, saying that the company would provide reduced or even waived prices for patients who could not afford it. The profit from the 5,000 percent increase in price would be used to develop new and better drugs, Shreklin said.

"I'm not thinking too hard about it, because at the end of the day I know what we're doing is right."
Shkrelin initially stating that the price increase wouldn't be rolled back, but NBC confirmed Tuesday that the company had plans to lower the price of Daraprim.
You can share this story on social media: