Pharma firm hikes life-saving drug price by 5,500%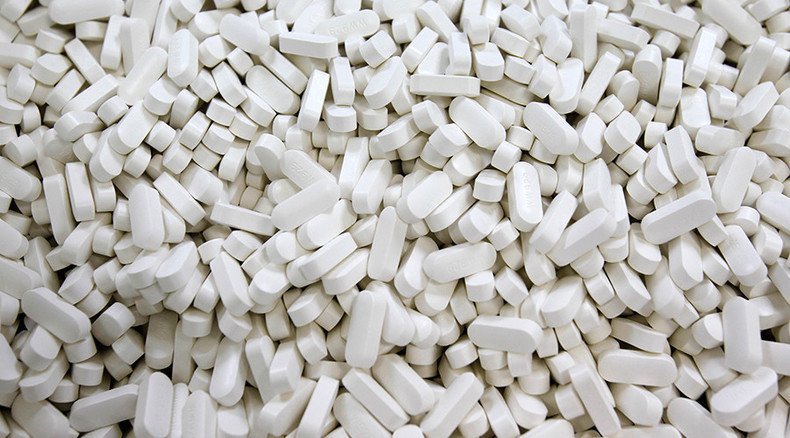 The medical community is outraged by a 5,500 percent price hike for Daraprim, after a big NY-based pharmaceutical company purchased the patent for it. The drug has been on the market for over 60 years, and can be essential to certain AIDS and cancer treatments.
The New York-based Turing Pharmaceuticals raised the price of Daraprim from $13.50 to $750 per pill in just over a month after buying the rights for the drug from Impax Laboratories.
The drug is used to treat toxoplasmosis, the second most common food-borne disease that affects patients suffering from AIDS and cancer. It has been produced since 1953 and is on the WHO List of Essential Medicines. But now medical associations are beating their drums about the sudden price hike and potential affordability of Daraprim as a treatment.
In an open letter to Turing, the Infectious Diseases Society of America (IDSA) and HIV Medicine Association (HIVMA), have asked the company to reconsider the new price.
"This cost is unjustifiable for the medically vulnerable patient population in need of this medication and unsustainable for the health care system," IDSA and HIVMA said.
Both NGOs say that treating toxoplasmosis, which can affect the brain, potentially leading to blindness and brain damage, is simply not cost effective.
"Under the current pricing structure, it is estimated that the annual cost of treatment for toxoplasmosis, for the pyrimethamine component alone, will be $336,000 for patients who weigh less than 60kg and $634,500 for patients who weigh more than 60kg," the NGOs wrote.

About 60 million people in the United States may carry toxoplasmosis, a life threatening disease transmitted by eating under-cooked meat, drinking unclean water, and being in contact with infected cat feces. But not all patients in the US have medical insurance that can compensate for the cost of the drug, especially young mothers who can pass on the decease to their child.
"What we're seeing is that this is going to disproportionately impact individuals who may not have insurance … [and] may be more likely to have other barriers to health care, including transportation, poverty and stigma," Wendy S. Armstrong, vice chair of HIVMA, told Infectious Disease News.
People whose insurance plans require a 20 percent co-payment of the cost would be required to cough up $150 a pill.
Explaining the price rise to USA Today, Martin Shkreli, the founder and chief executive of Turing, said the company needed to raise tariffs in order to fund its research work on toxoplasmosis, along with new education programs about the disease.
"This isn't the greedy drug company trying to gouge patients, it is us trying to stay in business," Shkreli said, adding that many patients use the drug for less than a year. "This is still one of the smallest pharmaceutical products in the world," he said.
Shkreli also said that Daraprim will have little impact on the US health care system as it is so rarely used. "It really doesn't make sense to get any criticism for this," he stressed.
However, according to IDSA and HIVMA, there is an apparent shortage in supplies of the drug.
"The supply issues have been very significant for us," Armstrong said. "We've been, frankly, unable to get the drug for a significant period of time."
In response to the letter from IDSA and HIVMA, Eliseo Salinas, R&D president at Turing Pharmaceuticals said that Daraprim can always be purchased from Turing's exclusive distributor.
"We fully understand your concerns about the cost to hospital pharmacies," Salinas wrote in the letter obtained from IDSA/HIVMA. "The pharmaceutical pricing model is extraordinarily complex, but I believe your estimate of treatment costs cannot be generalized."
As far as the pricing goes, Craig Rothenberg, chief communication officer of Turing Pharmaceuticals, told Infectious Disease News, that the company has devised a scheme to aid toxoplasmosis patients in financial need. The company claims to have launched a co-pay assistance program and the "extension of a system that provides the treatment to uninsured patients in financial need."
You can share this story on social media: