Half of Americans would ban Syrian refugees, send ground troops to fight ISIS – poll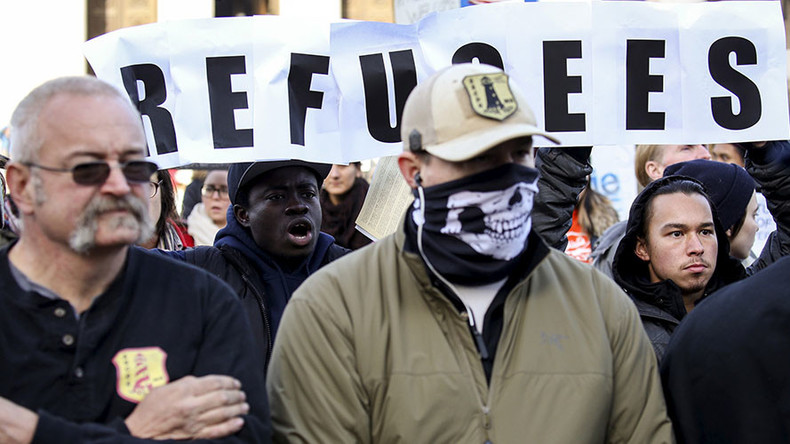 Fifty-one percent of Americans would bar Syrian refugees from entering the US, while 52 percent would support a ground war against jihadist group Islamic State, according to a new survey.
According to a new Quinnipiac University poll, 82 percent of Republicans and 22 percent of Democrats oppose accepting refugees from Syria, from where millions have fled during the four years of civil war and increased presence of jihadists.
President Barack Obama administration's stated plan is to accept at least 10,000 Syrian refugees into the US over the next year. Nearly three-quarters of Democrats, those of Obama's party, support accepting refugees from Syria.
The poll found that 52 percent of respondents would support sending ground troops to fight Islamic State. There are currently about 3,400 American troops in Iraq, where Islamic State has also gained control of vast amounts of territory. Soon, the US military will send special forces to "conduct raids, free hostages, gather intelligence, and capture ISIL leaders," US Secretary of Defense Ash Carter said earlier this month.
Forty percent of the poll's respondents opposed sending group troops to fight Islamic State.
Meanwhile, about two-thirds of respondents said they do not support "banning people who are Muslim from entering the US," a proposal touted by front-running Republican presidential candidate Donald Trump this month while on the campaign trail. Agreeing with Trump, 27 percent of respondents said they would ban Muslims from the US.
Seventy-nine percent of Democrats and 51 percent of Republicans said they opposed banning Muslims, as did 67 percent of non-affiliated respondents.
Twenty-eight percent of respondents said Islam is a violent religion, with more than half saying Islam is peaceful.
In a separate poll released last week, Trump's Muslim-ban proposal had the support of 54 percent of Republicans, while 46 percent of respondents supported a national database to track Muslims in the US.
In the same poll, 30 percent of Republican respondents and 19 percent of Democrats said they supported bombing Agrabah, a fictional nation in the Disney film 'Aladdin.'
A NBC News/Wall Street Journal poll released this month found that only 37 percent of American's support Obama's handling of foreign policy. The president's approach in dealing with Islamic State did not garner much approval, either, with 34 percent backing President Obama's handling of the situation.