Boy who cried Ahmed? Sikh student's word vs. Texas police in school bomb threat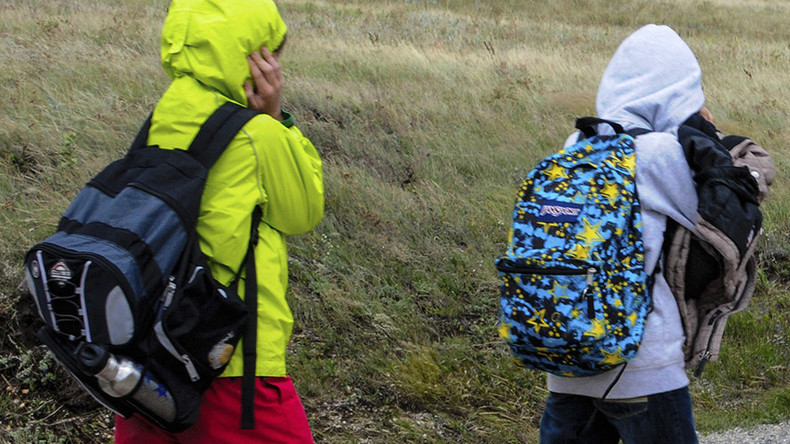 A Sikh preteen says a bully framed him by saying he had a bomb at school, leading to his arrest. However, police in Arlington, Texas say the student admitted to mentioning a bomb. The 12-year-old was detained at a juvenile facility for three days.
The Arlington Police Department responded to a call about a bomb threat at Nichols Junior High School around 3:15 pm on Friday, Lieutenant Christopher Cook, an Arlington PD spokesman, told the Dallas Morning News.
An unnamed student had told a teacher that Armaan Singh Sarai, a 12-year-old Sikh classmate, said on both Thursday and Friday that he planned to blow up the school. Sarai said that he had a backpack wired with a bomb that was set to go off a minute later and that he was planning to place the bag in a school bathroom and flee with people waiting outside the school for him, Cook said, citing the police report.
The classroom was evacuated and searched, but police determined that the backpack did not contain a bomb.
Armaan was subsequently arrested "for making a bomb threat," officials with the Arlington Independent School District told the Dallas Morning News. He was taken to the county's juvenile detention center on Friday afternoon.
But Armaan's cousin, Ginee Haer, claims that he was the victim of a bully and racism.
"A bully in class thought it would be funny to accuse him of having a bomb, and so the principal, without any questioning, interrogation, or notification to his parents, called the police," she wrote in a Facebook post that has since gone viral.
Armaan was kept at the detention center through the weekend and not released until Monday, Haer said. His parents were not informed of his arrest, she claimed, adding that they only found out where he was because the parents "started calling every police department in the area, only to find out he was sent to a Juvenile facility."
"It hurts my heart and boils my blood that there are people stupid enough out there not only accusing us, but our innocent children of being terrorists! It sickens me even more that there are people even more stupid out there, taking their word for it," Haer wrote. "My cousin is a minor and was arrested without any evidence or guardian present!"
Police contest Haer's version of events, however. Cook said Armaan admitted to them that he mentioned a bomb, adding that the 12-year-old insisted that he was only kidding.
It's routine for police to take juveniles accused of a crime to a center, Cook said. Armaan was accused of making terroristic threats, which is a felony. The police spokesman said he did not know how long the student had spent at the facility.
"People have got to learn they cannot make these types of threats which cause alarm, which cause evacuations," Cook said. "Just because you say it's a joke, it doesn't get you out of trouble."
The school district "did try to contact the parents Friday afternoon, and they were aware" he was taken to a detention center in Fort Worth, Leslie Johnston, a spokesman for the Arlington school district, told the Dallas Morning News.
Aksh Singh, Armaan's older sibling, wrote an email to Nichols Principal Julie Harcrow complaining about his brother's unfair treatment and demanding an explanation for why Armaan was singled out.
"I know we live in a time where such an accusation is serious, but this is outrageous and I demand a justified reason for why a 12 year old INDIAN boy was taken into police custody and sent to a jail," Singh wrote, according to a photo posted to Facebook. "I don't know what exactly happened, but I want to schedule an conference with the teacher who instead of sending my little 12 year old to the principal called the cop."
Everybody Please Share this about Nichols Junior High School in Arlington, Texas. My little brother was taken directly to a juvenile center for doing this. Please help stop the discrimination Nichols J H

Posted by Aksh D. Singh on Friday, December 11, 2015
"If I and other people can think this is not justifiable because my 12 year old brother who has a heart problem whos scared of the dark, would get sent to a jail for opening his backpack and saying he had a bomb to other kids around him probably because they were talking about ISIS as well," he continued, "and they were able to go home safely to their families."
School officials were set to meet with Armaan's parents on Tuesday, but never arrived for the meeting, Johnston said.
At least three teens were arrested for making false bomb threats in Arlington and Cedar Hill, Texas last fall, the Dallas Morning News reported.
"Police are working on a video to put out to our students that these threats are taken serious and you could face severe consequences," Johnston said.
In September, Ahmed Mohammed, a 14-year-old Muslim boy, was arrested in the neighboring city of Irving for bringing a homemade clock to school that a teacher thought was a bomb. After taking social media by storm with rants against anti-Muslim bigotry, the Mohammed family announced they were emigrating to Qatar and seeking $15 million in damages from the school district.
You can share this story on social media: